My Dominant Kinky Woman Feeds Me Breakfast
When I woke up, Margot, my dominant kinky woman, sat beside me on the bed. Her eyes twinkled and she smiled. "You must be hungry, so I bought you a pizza and orange juice. You do like pizza? Yes, you do…." She moved over me, gently hopping on my chest. My cock was starting to get hard but it was inside the garden hose. "Ow," I cried. "Did I hurt you, Brian?" "No, The hose hurts when my penis gets hard, that's all…" Margot giggled, took a slice out of the box, and held it within reach of my mouth. I took it, and she giggled. From time to time she cleaned my mouth with a towel.
She presented the juice in a baby bottle. Giving me a baby bottle was really fun for this dominant kinky woman. She laughed loudly when she pushed the rubber teat into my mouth. She cleaned my face again and again as if I was her baby. "Tell me, this is the best meal you've ever had, isn't it?" I agreed. She bent forward and started kissing me deeply. The butterflies got really wild in my stomach. I wanted to grab her but I couldn't. Soon she was sitting on my face and I licked her sweet juices as dessert.
Margot Introduces Me To Her Friend Joanne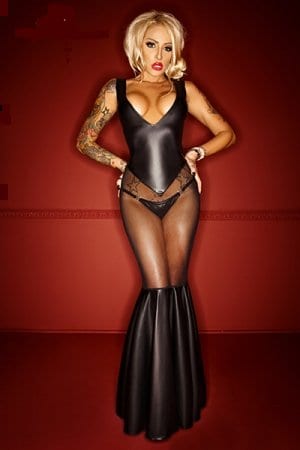 The next day the door opened. Margot entered the room with a smile and a pizza box. "Look who's here!" she cried. She was followed by a slender blond dominant kinky woman in a motor suit dress. "Brian! What a surprise to see you again after all these years! Especially in the state, you're in now!" The other dominant kinky woman picked up the hose and smiled. "Love it!" she said. Then she checked the ties. She smiled again. "Well done, Margot! This is how I like to meet old friends! Brian, do you remember me?" The dominant kinky woman sat down on my chest pushing the feeding bottle in my mouth.
"What a great surprise to meet you again this way!" She giggled and shook her head. Her blond curly hair moved freely around her head. Joanne, the dominant kinky woman kept stressing how I was tied up and couldn't move at all. "I understand, you haven't forgotten me after all those years! How sweet. What a nice boy you still are!" She hopped on my chest from excitement and I felt her boots kicking my thighs. I desperately needed to go to the bathroom but I couldn't communicate anything with the feeding bottle in my mouth.
The Stainless Steel Chastity Cage
She realized I couldn't say anything with the baby bottle in my mouth so she took it out, spilling juice all over my face. Meanwhile, I felt uneasy with my growing cock still stuck in the hose. Margot bent over to give me a kiss and put a slice of pizza in my mouth. Both ladies laughed loudly as I munched it away. "Look," said Joanne, You know what this is?" She held something above my head. Margot interrupted "Sorry, Joanne, the poor thing hasn't eaten for a whole day, let him finish the pizza first." Joanne took a slice of pizza out of the box and pushed it into my mouth.
"This is a stainless steel chastity cage." Joanne cried moving her hips up and down on my chest pushing her heels against my hips. With two pieces of pizza in my mouth, Joanne went further. "It will keep you sharp for Margot. . . . And me too!…." she chattered. "You want a drink, Brian?" She didn't wait for my answer. She pressed the baby feeder in my mouth. I was about to vomit. A mixture of tomato sauce and orange juice dripped all over my face. "And for tonight I have something special: I still kept of one the Lassie books we had in junior high. I will read it to both of you."
My Shower With My Dominant Kinky Women
Joanne pulled the feeding bottle out of my mouth and turned towards Margot, who now sat down on my legs, tickling my balls. She started reading. Joanne rubbed her bottom in my face as she started reading. She ground my face with the rough material of her motor dress. The pizza, which was still sticking out of my mouth smeared all over Joanne's bottom. I could hardly breathe. It was an odd smell of oil and leather mixed with orange juice, pizza sauce, and cheese. I missed most of the story.
Finally, I managed to tell her I desperately needed to go to the bathroom. The ladies got up and loosened the bondage. I stood up and made a rush for the bathroom with the hose in my hand. The opportunity to take a shower was too good to miss. I felt dirty and ashamed. Soap has never felt so good. I wondered why the ladies liked my unwashed and unshaven appearance as they entered the shower. "Oh no, don't touch your balls, not even to wash, these are ours now…." screamed Joanne, "Turn around!" Still stunned, I was turned around, hands gripped my arms and I felt something clicking around my wrists: steel handcuffs.
Men Want Female Dominance
Joanne turned me around, placed a hand on my throat, and with the other hand my penis and balls and pushed me against the wall. "That thing is ours, exclusively ours.. don't you dare touch it!" She squeezed my cock and balls hard while I was grasping for air. "Understood?". ". . . . Yes . . ." I replied. I was not able to think properly. "YES WHO?" Joanne said with a sharp voice. "Yes . . . Joanne". Some faded memories came back. It occurred to me she was already bossy at school. I was not in the position to object now. And in a mysterious way, it was exciting.
"That's not nice of you", Margot said, "That is not the way to treat an old school friend." "Men want female dominance", Joanne replied. "Believe me, this is what men respect, what keeps them obedient. I know, because I've had more boyfriends than you!" "I had one for 10 years, you never managed to keep a boyfriend for more than a month!" Margot answered. "You want an obedient fuck toy, don't you?" argued Joanne, "Obedience doesn't come by itself, it must be taught! Certainly to men."
Leading Him With His Cock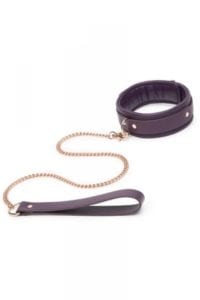 "I'm not interested in just an obedient fuck toy who stays with me because he can't run away. I want him to stay with me because he adores me. He gets aroused as soon as he sees me. I love the greedy look in his eyes. You love to be near me, don't you Brian?" Margot doesn't wait for an answer. She grabs my erect cock and walks up and down the room gently pulling me behind her. "You know Brian has a built-in leash that extends as soon as I approach him. Do you see how well he follows me now? I believe this is a more durable method to keep Brian under control. And it is a lot of fun too!" she says while she presents my erect cock to Joanne.
"Well…eh, you might have a point," Joanne says. She roughly grabs my cock and balls. Her hand feels like a vice grip as she drags me around the table making it impossible to walk. I stumble. Joanne clearly doesn't enjoy it half as much as Margot does. She probably doesn't care about the greedy look on my face, which by now wasn't there anymore. "No, I don't like it. This is not my style!" The vice grip released my balls. "I was never fond of hot dogs anyways…" Joanne says as she walks towards a bag to take out a dog leash.
Lick It All
A few seconds later, I feel the leather collar closing around my throat. "Look at how well he follows me now, Margot…" Joanne drags me through the room with the leash. "You see, that's the way to do it, haha…" she cries as I stumble behind her. Margot seemed stunned.
Suddenly Joanne sends me floundering to the floor with a wild pull on the leash. As I'm on my knees she yells: "Clean my suit!! Now! You smeared pizza sauce and orange juice all over it. What are you waiting for? Lick it all!" I bent towards her and started to lick. The mixture of pizza sauce, orange juice, oil, and grease on the rough suit makes me want to vomit…well almost.
"That is not the way to treat an old school friend!" Margot cries. She steps forward, grabs the dog leash, and pulls me towards her. "He's mine and I don't want you to treat him this way!" "Fuck you," Joanne yelled, "You wanted me to advise you on how to control him, find out yourself! I'm not going to help you anymore!". She leaves the apartment slamming the door. "Don't worry," Margot explains, "Joanne will pick up a young stud in some pub who has to bear her wrath. When she is satisfied she'll be back with a far better temper." Margot giggled while grabbing my swollen cock.
What I Have Been Waiting For All Day
She walks up and down the room, slowly and elegantly exposing her female curves with every movement. "What a pity everybody in the neighborhood would complain if I walked you around like this at the park. I would love to walk you this way through the park." She says and squeezes my male part softly, "You would like that too, wouldn't you?" I agreed. Everything would be O.K. just to be near her, being in her possession. I didn't care how silly it would look to the outer world and if so, it would prove my devotion to her. There was nothing to be ashamed of.
Margot checks my swollen dick again, giggles, and walks around the apartment with me. She finally sits down on the couch and pulls me towards the couch where she presents me with her boots. I kiss them intensely. Margot gently guides me with the dog leash along her legs upwards. "Oh, by the way, Joanne has taken the keys to the handcuffs with her. You don't mind being cuffed, do you? Anyways, you don't need your hands to comfort me, your tongue is sufficient enough ha  ha!" I agreed by kissing and licking her boots wildly. As she puts her legs on my back, she gets wet and starts to moan softly. With her sweaty juices tasting better by the minute I realize I had found my final destination.