A Tournament That Turned into My Wildest Femdom Fantasy  
I had just finished the best tournament I've ever had little did I know that my wildest fantasy would be next.  Next week had been left open on the schedule, so I wasn't flying somewhere early tomorrow morning.  And possibly the most important ingredient, I was just outside New York City.  People say you can do anything you want in the city and you can do it 24 hours a day.  So why not.  Let's go in and see if  "they say" has made a good assessment of the city.    Who knows.  Maybe I can get lucky and continue having the same good fortune I've had all week.
  I didn't really know too much about places to go, so I asked the cabby for a couple of suggestions.  He dropped me at what appeared to be an upscale and rather busy club on the upper East side.  Walking in the door, I immediately knew the cabby had taken good care of me.  This place looked wonderful. 
  So I find myself a spot at the bar, order a drink and settle in for what I hope will be a productive evening. 
Directly in front of me was a beautiful young lady with that short skirt and her legs slightly parted.  I couldn't see her panty crotch, but it was close.  Shooting beaver was something I had enjoyed since forever and here it was to start the evening.
  Periodically, I glanced over to her and a few times caught her eye.  We exchanged smiles, but I hadn't consumed enough courage yet to walk over and say hello.  A bit later, a chair emptied at her table, so I figured I would give it a shot.  I walked over and asked if I might join her.  She said of course with a big smile.  As I sat down, I couldn't help thinking how fortunate I had been all week and here it was continuing.
  Coincidentally, it turned out she was a marketing representative for one of the companies that had sponsored in the tournament that week.  She had been out and watched me play which just made things smoother. 
  Fairly soon she said she had to call it a night, but asked if I could come to her apartment for a cup of coffee before calling it an evening.  She said sure and moments later we were off.  
  When we arrived at her place, she headed into the kitchen to start the coffee.  I needed to relieve myself, so I headed to the bathroom.  Since this was most likely going to be a one night stand, I began looking for something to remember her by.  Something like a well worn pair of panties with a scent that would make my hair stand up.  After enjoying a few pair, I found the ones I thought would be leaving with me.  As I pressed them to my face and inhaled deeply, the door suddenly flew open and in she walked.  She commanded that I get on my knees in front of her and without a thought I was there. 
  After a few moments of grinding her pussy in my face, she told me to lie down on the floor on my back.  Something in the back of my mind was letting me know that the tables had turned.  I was no longer in control, if in fact I ever had been. She removed her panties and quickly mounted my face.  Rubbing back and forth, I was enjoying a sensation not only physical, but also mental as she had thoroughly taken control and I loved it.  She became wetter and wetter, and finally let go with a torrent of her juices in a wonderful orgasm.  When she stopped quivering she told me to start licking and not stop until she was clean.   Trust me when I say she didn't have to tell me twice.
  When we finished, she led me out to the living room and told me to sit on the couch.  She said she had some friends to call, and they might like to come over and play   With that she disappeared into the kitchen.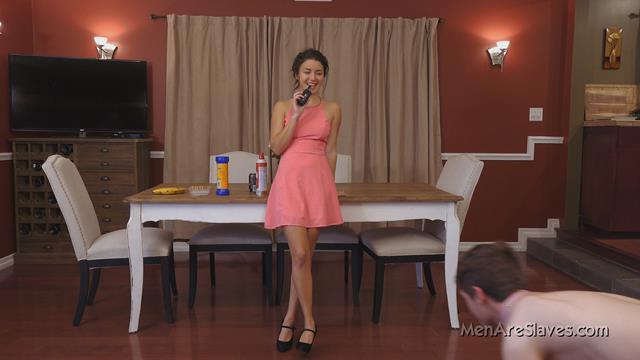 And I thought I was fortunate to win the tournament that week, and so glad that it led to my wildest fantasy.  LOL