The gorgeous Mistress and her young slave (Part 2)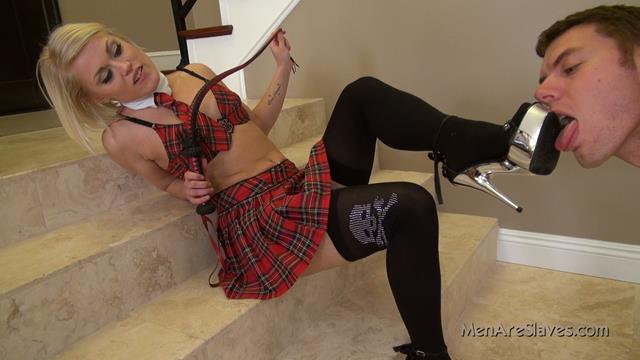 The second inspection went quite well. I had to clean the rest room which were not very dirty but I had to mop up the floor on my hands and knees. She wanted me to clean inside the toilet bowl with a former toothbrush.
As for the first inspection, I had to wait on my knees until she was done. I was anxious.
She was inspecting everywhere.
"Are you satisfied?"
I was so totally in stress that I couldn't answer.
"No I am kidding! You did a great job, little slave! Still has some way to go but this is a good start!"
She started to clean my face with the toilet brush. I felt humiliated.
"I scared you my little slave, Do not worry. I am pretty sure to succeed in making you a good slave. You are on this earth on purpose, to be my slave! The destiny of some people is to have a very difficult life and for other to have a wonderful life, If you accept your destiny, it will be easier for you. I think you can do it otherwise I will train another slave."
She had fun to brush my hair with the toilet brush. I wanted to pee but I was to afraid to ask the permission. Finally, I decided to ask her.
She waited a little bit to give me her answer but she agreed.
Then, I came to see her on the kitchen, she was cooking. She asked me to peel the carrots. She set the table. I noticed she just put one plate.
I had to stand close to her and to be ready to follow any of her orders. She was saying just a word!
"water, bread, salt!"
After a while, she told me.
"listen to me! You are here to make my life easier! I shouldn't need to ask you to bring bread or anything. As a good waiter, you should know before I ask what I need. My glass of water should be always fulfilled and you have to put always a piece of bread next to my plate."
"Yes I understand, my Mistress"
It was not easy to stand up by her. I was starving and I was scared about the fact I could make a mistake.
She was taking all her time to eat. She started to ask me some questions about my studies, my family, my parents and the place where I was living. I told her that even if my parents were not rich, they didn't want me to take a loan to pay my studies. So, I was so grateful to them for that so I spent a lot of time to study.
My lifestyle was so far from her's. She was having fun by listening to me. She said nothing but no need to. I could feel how she was superior to me.
"Have you noticed that my plate was empty and my glass too, little slave. You should ask me if I want something else or more wine"
"Are you done Mistress? Do you want something else?"
"Yes slave, I will have some vegetables and some wine."
I tried not to spill any wine. She started to eat a little bit and drink the wine. Then she stopped and said to me :
"Ok Listen! Now I am done. I have to pay attention no to eat too much. Put everything on the trash and clean after!"
She stranded up and asked me to come closer to her. She put my head against her Lower belly and started to caress my hair like if I were a good pet.
"You can kiss my shoes!"
Then, she turned her back and I looked up.
"Now Kiss my ass!":she added by laughing.
I am quite surprised but really happy. I hardly had the time to make a kiss on her beautiful ass then she left the room.
"You are going to make a cup of coffee and then to bring it to me. I am going to take a rest on the living room."
She took with her a small package of cookies. After a while, I went to the living room with the cup of coffee. She was sitting on a leather sofa. There was a coffee table next to the sofa.
I was waiting on my knees with the cup of coffee until she finally decided to take the cup. She drunk a little bit then she gave me back the cup by asking me to put it on the coffee table. Then she asked me to show her the cookies like that she could pick one of its.
"take off my shoes! I want to lay down on the sofa"
I removed her high heel shoes with precaution. Her feet are very nice.
"Do you like my feet?"
"Yes Mistress. They are gorgeous!"
"So kiss my feet!"
I started to kiss them everywhere and suddenly, she pushed me away with one her feet.
"Enough! You have to stop now!"
She laid down on the sofa and asked me to cover her with a blanket.
"Go and clean the kitchen. After I don't want to see any greasy stains left. You have all what you need to do a good job. As I am too kind, I give you two hours to do the cleaning. However, I don't want to hear any noise. I don't want to be disturb during my nap."
There was a lot of work to do. By the meantime, I was starving. I was really upset because it was not really exciting to clean this kitchen and I had so many homework to do at home. I had no idea by the time I was going to spend in this house but I knew that if I gave up at this time, I should be done and she would stop the training. I didn't like this idea. I knew at this time that I was totally bewitched by this ruthless woman.
I had to stop regularly doing the housekeeping because she was asking me to bring her something as the TV remote control or a glass of water… She was shameless.
"Slave, come here at my feet! What are you doing? You are going to make a massage of my feet to relax me.
She seated and I crouched on my knees in front of her. She gave me her right foot and put her left one on my thigh. I started by the top of the foot then went down very slowly. Then I used my thumbs by drawing some circles on her foot. The contact with the nylon of her socks burned a little bit my thumbs but it was nothing compared to the pleasure I felt by taking care of her foot.
"Well, you do quite well!"
"Thank you Mistress"
"Go on! Don't stop!"
I have been doing this massage for fifteen minutes.
"Take off my socks and carry on!"
Touching directly her skin was more pleasant.
"Your hands are so soft! Show me!"
I showed her my hands. She didn't touch its but she watch its very carefully.
"Your hands are really beautiful"
"Thank you Mistress"
"do you play piano?"
"Yes Mistress, I do"
''It is interesting! Carry on your massage!"
"I really do enjoy this massage! Don't stop it!"
I had been 30 minutes since I started this massage.
"Unfortunately, you have to stop. Don't forget the kitchen has to be cleaned in 30 minutes! I am going to do an inspection."
She noticed I looked really scared. Because of the massage of her feet, I had only 30 minutes left and still so many things to do.
"Well as I am a good Mistress and as your massage was really great, I will give you 15 spare minutes. Anyway if you can handle it sooner, you can come and make me another massage!"
"Thank you Mistress!"
"You can do better than that! Kiss my feet!"
So I started to kiss her feet.
"Ok stop it. Put on my socks because I am cold!"
While I put on her nylon socks, she smiled.
"I have to go to the restroom. It is a pity but I didn't have time to teach you. Sooner I wouldn't need to move if I don't want. You are going to learn. You will see…"
She got up and started to laugh by seeing my face when I was on my way to the kitchen.
I had to hurry up to finish the cleaning of the kitchen even if I was really tired. I wanted to end up sooner to have time to make her another massage and so to make her happy and in a good disposition before the inspection.
To be continued
By Bernager