15 Photos Reveal What BDSM, Kink and Fetishism Really Look Like
Thanks to the wild success of 50 Shades of Grey, sexual fetishism are hipper than ever.
But such popularity comes at a cost. While the book has brought the BDSM subculture mainstream popularity, it has also reinforced a very limited view of how the fetish community operates. According to Danny Ghitis, a Brooklyn-based photographer, 50 Shades depicts the BDSM community in a heteronormative, stereotypical and "very basic" way, he told Mic in an interview. Hence the inspiration for The Fetlife series in which Ghitis set out to show the the fetish community is about a lot more than whips, chains and leather dungeons.
"You can't tell who has a fetish," Ghitis said. "It runs on a spectrum."
And The Fetlife offers an honest, humanizing view of people on all parts of the spectrum. Each photograph was taken inside the subject's New York City home, and collectively they paint a diverse, beautiful and honest portrait of the fetish community.
"ZentaiMan206, straight male, cosplay enthusiast."
"MadeleineMorte and Tinta, married queer couple (now separated); extreme leather lover and bondage performer, and ex-military with a uniform fetish."
"Swinginglana, bisexual kinkster, both dominant and submissive."
Ghitis began taking portraits of New York City's fetish community three years ago, around the time New York passed its Marriage Equality Act. He saw the culture beginning to ask itself bigger questions about what was "mainstream" and sexually "acceptable."
"I wanted to confront my own lack of understanding," he told Mic. "I didn't want to reinforce a limited view. I wanted to get a whole variety of people and let them tell their own story."
"Gorilla_Bob, erotic photographer and writer into sensual body worship, particularly feet."
Ghitis made himself an account on the fetish social networking site FetLife, which describes itself as "Similar to Facebook and MySpace but run by kinksters like you and me." He created a profile, choosing "vanilla" as his sexual role out of a long list of options. The community uses the word to describe traditional, non-kinksters.
He said people did not respond well to him "being this vanilla journalist coming in to scope out the quote-unquote 'freaks,'" which was not his intention at all. Ghitis then decided to change his role from "vanilla" to "unsure," which he realized was more realistic for someone who hadn't experienced anything outside of the vanilla world.
"Alienmaster, gay male, rubber master and role-player."
"Contele and CassandraMoon; husband and wife involved in theater and into role-play."
"RileyKilo, transgender age-player, escort and porn actor."
Riley Kilo, pictured directly above, was Ghitis's first subject. This shoot was also his most difficult, and his most controversial. "She is what's called an 'adult baby.' It's a particular fetish that's quite common that involves regressing to childhood."
"In her case I felt the line between sexuality in a sort of adult, responsible way and pedophilia was very thin," Ghitis said. "And I had to ask a lot of questions and really dig to understand the separation between those things … and represent it fairly."
In the end, Ghitis learned the clear distinction between those who lust after children and those who find "comfort" in regressing to a childlike state. Not all kinks are entirely sexual in nature. This shot, with the teddy bear front and center, captures this "comfort zone" artfully.
"TheBaroness, pansexual dominant diva, latex expert and fashion designer"
"Slut Tammy, cross-dressing bisexual alter ego."
Slut Tammy also stuck out in Ghitis's mind.
For years, Tammy was a run-of-the-mill, vanilla man, leading a traditional life. When his wife passed, he started exploring other aspects of his personality, creating Tammy, his cross-dressing alter-ego.
"It was something about himself he wanted to explore, but it wasn't everything about him," Ghitis said. Tammy told Ghitis that exploring this side of himself was amazing. But he would give it all up if he could have his wife back. "There's so much more to a person than their sexual identity, gender identity, in this case love."
This photo is Tammy's first coming out to the world.
"Erinhoudini, a rope mistress and anti-escape artist, trans woman activist."
"TheTerribleGirl, submissive into rape role-play"
Ghitis sees these photos as a good starting point for starting a fairer conversation surrounding the kinkster community. "We need to be more open to talking about things, putting things out there and not hiding from our own base desires," he said. If we can do this, we will create a far more accepting, open and equal world for everyone. Because people with fetishes are not freaks or 50 Shades-esque pets; they are people with hopes, homes, anxieties and fears, just like the rest of the vanilla world.
"Zoe1984, a polyamorous bisexual student interested in the sexual power struggle."
"Sammycatnipnik, gay costume and makeup expert."
"DireWolf, dominant leader of a werewolf pack."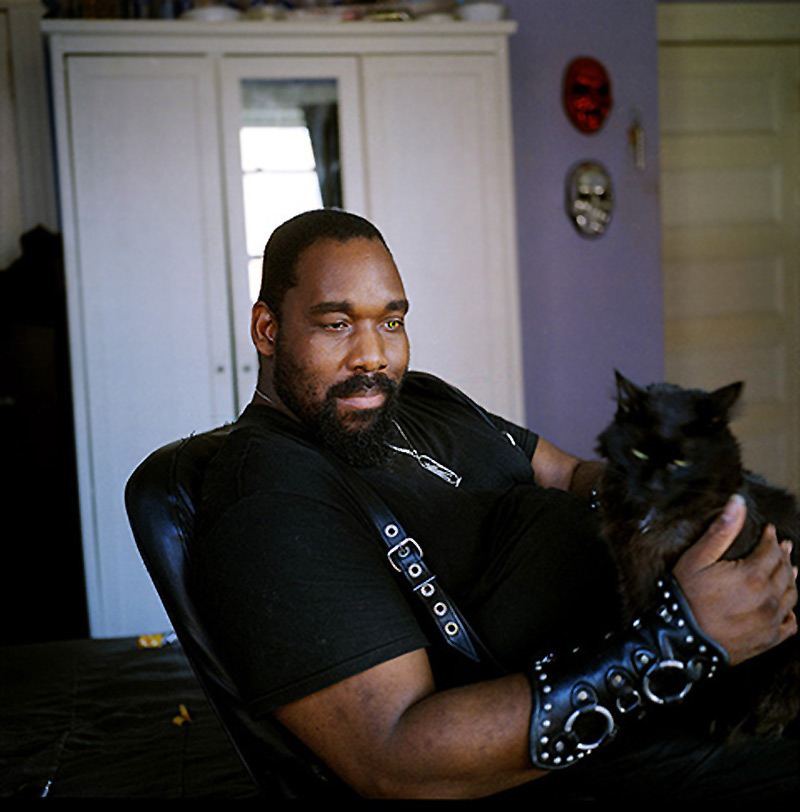 "BLUNT and MissCouple, sadomasochist sisters and professional mistresses."
Ghitis' project is ongoing, with no end date approaching. But once he gets enough shots, he plans to compile them into a full book. Please note that the dimensions of these photographs have been adjusted to fit the parameters of Mic's site. Check out the full images and the rest of Ghitis' photography on his website, and keep an eye out for the full The Fetlife photo collection as it nears completion.
[fblike]
http://mic.com/articles/104382/15-photos-show-what-fetishism-really-looks-like