Rebecca's annual Halloween party was legendary, an event not to be missed. Things happened at her party (things besides costumed adults acting like happy children, eating candy and getting drunk). The universe shifted, couples fell in love. I got laid by Danny for the first time on the night of her party.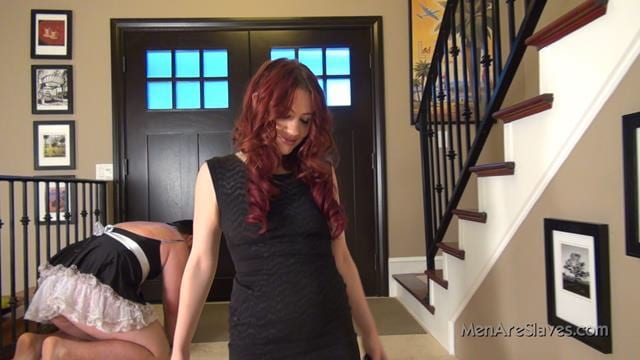 My boss lived in the perfect house for a large party, a big, three-story, pink brick mansion in one of the old-money neighborhoods of town, with a tall ornate wrought iron fence circling the property and a red brick walkway leading up to the front door. Between Rebecca's salary as a bank manager and the retirement income of her (second) husband Hamilton, they owned one of the nicest homes in town.
A bit about Rebecca and her husband. He is a distinguished professor emeritus of Eastern Studies from UVA. Hamilton is his last name; I don't know his first name, because that's what Rebecca calls him. Hamilton is bright, handsome, professorial, worldly, an engaging conversationalist and a wonderful host. He does all the party decorations, bartends and manages a small army of college kids who swarm the house passing out Halloween-themed hors d'oeuvres and liquor shots. Rebecca, 20 years younger, is tall, model-thin, statuesque, a platinum blonde and always drop-dead gorgeous in her costume. She is the perfect hostess, gliding from guest to guest, guessing identities and making everyone feel special.
Rebecca and I have a mentor-mentee relationship going back to the day she hired me out of college. She saw something in me, and I have worked hard to meet her expectations. Outside of work, she has been a friend beyond measure. She helped me buy my house with a personal, interest-free loan to swing the down payment. When my dad died, she was there for me, especially after the funeral when mom took off and I was left executor of the estate. At one point during this difficult period, I was such a wreck that Rebecca had me stay with her at her home for a weekend. It was during this stay that I saw how lovingly attentive Hamilton is to her, the kind of husband every woman deserves.
The Event
The event that bears mention from this weekend, because of the events that follow, is that on the second night of my stay, a little after midnight, Rebecca knocked on my door and came into the room. She climbed into bed with me and we talked into the wee hours, and then we slept together, spooning like two sisters. I must admit that clinging to her exquisite body, I was more than a little aroused. I had played around a little with my first roommate in college, but that was simply two girls exploring their sexuality, while with Rebecca, I felt sexual energy flowing between us. Nothing happened; we got up in the morning as if we had slept in separate beds. I knew nothing about her relationship with Hamilton, but apparently, it allowed for cuddling with female guests.
Ever since, when Rebecca greets me in private, she embraces me and kisses on the lips, and I can't help but respond in kind. I know, I know, not the proper way to relate with your boss, but Rebecca is so much more than a boss. I am deeply grateful for her counsel and friendship, and yes, when it comes to her (and her alone) I guess I'm a little bi-curious.
Back to the Halloween party. In the week that preceded it, while I worked on our costumes upstairs in my sewing room, my slave slaved away in the basement. Danny is a capable carpenter, so I had him construct a small storage room where I planned to put his things (once we cleaned out his apartment). In another corner of the basement, I had him construct a "dungeon." I put that in quotations because at this point, it was simply a framed-in room with plywood walls and modest potential.
I wanted my dungeon to be subtle and easily disguised (in case mom ever visited). So instead of a gaudy St. Andrew's Cross, I had Danny spread-eagle against one wall and marked the appropriate spots to install screw-eyes for the restraints. On the opposite side, I took an idea from a neighbor's basement gym and had Danny hang a pull-up bar from wood extrusions bolted to the rafters, the bar a wooden dowel with screw-eyes in both ends, so I could suspend him up on his toes, with a matching dowel with screw-eyes serving as a spreader bar between his ankles, leaving him spread-eagled and allowing me to get behind him with the flogger. Finally, I had him construct a whipping table. I upholstered it with padded leather, with ankle and wrist restraints on the legs near the floor. It looked deliciously evil.
Of course, Danny loved making all this. It was fun to come down to the basement and find him all sweaty, covered with sawdust, his cock hard in its cage as he sawed and hammered wood, constructing the dungeon where his sadomasochistic fantasies would play out, where he would endure his harshest trials and build a love-hate relationship with his Mistress's instruments of punishment.
The final touch was a coat of paint. I rejected "dungeon black" (boring and too obvious) and instead went with a feminine shade of lavender. If mom ever visited, I'd throw a tarp over the whipping table, fill the room with boxes from the attic, hang garden tools on the wall and call it my home and garden storage room. Decorating genius.
Halloween
Halloween came on a Saturday that year, which made it perfect for the day I had planned in detail for my submissive slut. We started with a haircut. I think it hurt me more than it hurt Danny to see those long locks of gorgeous black hair fall away, his James Dean identity falling away with them to the floor. He looked like a military man when we were done, reminding me a little of my father, which I found somewhat unsettling but also a revelation.
I found cutting off his hair immensely erotic, like Delilah cutting off Samson's hair, only with nicer intentions (which were to emasculate my slave, not betray him to the Philistines). Also, unbeknownst to Danny, I was preparing him for a job interview later next week, one that Rebecca had helped line up, a positon as assistant manager at University Auto and Tire. It meant a substantial increase in income.
Next came a manicure and pedicure. That totally freaked Danny out. He would've balked at the door if I hadn't given him the Mistress eye. The girls in the chairs around him loved it, and complimented him on having the masculine confidence to have his nails done. Ha, if they only knew what I had in store for him. I may have gone overboard when I had his nails painted cherry red, but it went with his shoes.
Things got serious that afternoon in the bathroom, when I cuffed Danny's wrists to the shower nozzle, lathered him up and then shaved all his body hair off, including the public hair around his cock and balls. He was as smooth as a newborn when I was done. It was at this point I informed him he was going to be a girl tonight, and not just any girl, but a girl in a sexy nurse outfit. (I had abandoned plans for the flight attendant uniform; it seems the days of sexy stewardess outfits has passed, alas.)
Submitting to his Mistress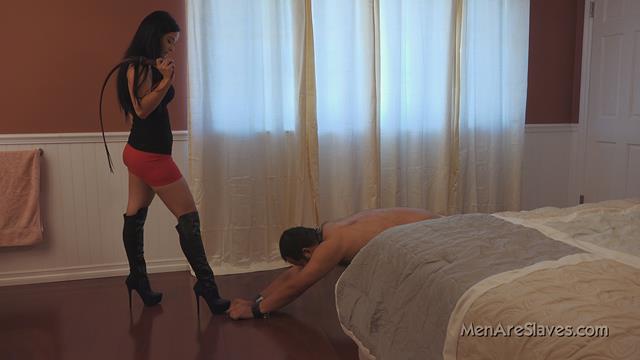 I think it was at this point that Danny realized my powers extended to scenarios he never fantasized about, for example, submitting to Mistress playing dress-up with her new doll. Halloween afforded the perfect opportunity for exposing his total submission in a humiliating and yet socially acceptable venue. He may not have liked it, but he had a big hard-on, so clearly something about the dynamic aroused him. I don't think it was so much being dressed as a girl, it was having his manhood taken from him.
After the shaving, I kept on stripping his masculinity, sitting him in front of a mirror and trimming his eyebrows and then applying foundation, mascara, false eye lashes, eye liner and lipstick. Next came the wig, which I had spent considerable effort obtaining, a luxurious wig made of real, wavy blonde hair, just over shoulder length. The effect was mind-boggling. Danny made a very attractive woman. Who knew?
Hair and makeup out of the way, next came the dilemma of what to do with his man parts. It would be unseemly to have them bulging in the wrong places. I wrapped his balls tightly with two-inch medical tape, and then pulled them back between his legs, so they were tucked up and out of the way in crack of his butt. I ran the tape up and around his waist to keep it all in place. It was uncomfortable, and Danny wouldn't be able to go #2 for the evening, but we discussed that before I taped him. And I planned on carrying a small pair of scissors for emergencies.
Next, what to do with his dick. He had a hard-on that I hoped would eventually subside, so for now I taped it down and stuffed it in his tight lycra panties. Next came the lace-up corset, which gave him a remarkably tapered waist (and made it difficult to breath, part of the plan). The corset came with a padded pushup bra. With extra padding, I made him a voluptuous 36R. Frankly, I was a little jealous.
The Costume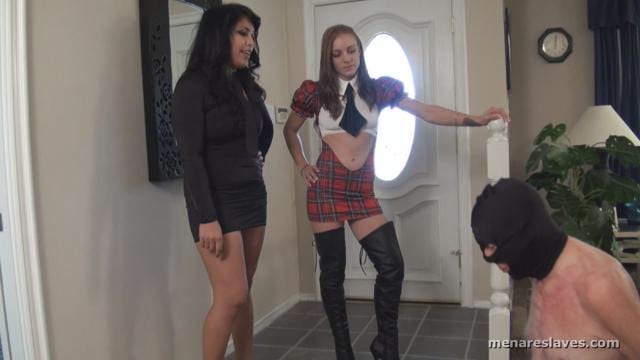 Finally, the costume itself, my own creation, a sexy heartbreaker in hospital white with red pipping around the bodice, a three-inch red belt with a white cross at the center of the waist, with a short, flirty skirt at mid-thigh, flirty white ruffles underneath. To finish it off, white fence-net pantyhose, cherry-red pumps with two-inch heels, a stethoscope, white gloves and a cute nurse's cap.
Holy shit, Danny looked sexy. He even had a great pair of legs, especially when I had him coyly lift a pump to the toe and turn one knee in front of the other. I had him strike various seductive poses while I snapped photographs with my iPhone. On the spot, I decided these were going in a new Mistress photo album. And not just these photos, but photos and videos of Danny in all the compromising erotic scenes that were sure to follow. I'd let my sub know I was taking the photos and videos, and if he ever acted up, it would be perfect material to blackmail him into obedience.
Or maybe I'd play slideshows and videos on a laptop placed outside his cage during long periods in confinement, just to help remind him of who he had become—my submissive, sissy slut. The possibilities were endless, but for now, I simply had to capture the images of him as a nurse because he was just so damn sexy. Too bad I couldn't post them on Facebook.
I went to the party as an airline captain, wearing a navy-blue coat with four stripes sewn on the bottom of the sleeves, silver plastic wings on the chest, man pants, black patent leather shoes, my hair pinned in a bun underneath a pilot's wheel cap. I glued on a mustache and penciled eyebrows to match. I looked the part, but the truth is, Danny stole the show. Rebecca (stunning as Cleopatra) knew instantly it was Danny and me, but many guests had no idea of sexy nurse's true gender. I instructed Danny to speak in a breathy whisper to disguise his voice. Most women eventually figured out he was a guy, but the men were blinded, drooling at the hot nurse. Dim lighting, I guess. Dim men, too.
Throughout the night, every chance I got, I whispered into Danny's ear about how hot he looked, how I couldn't wait to get him home and screw him (not that I had a strap-on at this point). As the party wore on, I decided it would be good for Danny to circulate on his own and get the experience of being a hot chick at a party full of semi-inebriated men and see how that felt. Each time he came back to me, he would shake his head and beg me to take him home, and when I refused, he'd toss down another drink.
Before we left the party, at the stroke of midnight, I pulled Danny into one of Rebecca's many spare bedrooms. I locked the door and had him kneel in front of me. I pulled down my pants, grasped the back of his head and pulled his red painted lips against my cunt. I forgot the vibrator, but just the sight of a hot blonde nurse with her face buried in my sex was such a turn-on that I came in a few minutes—hard. Afterwards, wiping Danny's smeared face with tissue and reapplying lipstick, the episode with Rebecca came to mind—I realized it had been in this very bedroom. Funny how things played out that way.
The Local Pub
The last event of the night was a visit to the local pub. It was not the rowdy bar scene I had hoped for, just two guys drinking beer at one end and a few patrons in the adjoining restaurant having a late meal, but the purpose was accomplished, dragging my sissy slave to a public venue and subjecting him to the scrutiny of strangers' eyes. The two guys kept looking our way and the bartender, a grad student by the looks of it, was smitten. He looked my sexy companion up and down before asking her what she wanted to drink—on the house. Squirming like a virgin, Danny answered in a soft falsetto that he would have a vodka tonic. I had my first drink of the night, a beer, something a pilot might drink (although one would hope not while in uniform).
Well, it was Halloween, so anything goes. We enjoyed a quiet drink together and left. When we got home, I finally rewarded my slave. I stripped off his girly nurse outfit, pulled the wig, wiped off lipstick and mascara, unwound the tape from his tormented balls, and then released him.
Unlike Samson, Daniel Simon Barton's strength had not been lost with his hair. He picked me up, threw me down on my bed and fucked me like a whore.
Next Episode: The Virtues of Silence