How We Got Started In The World Of Female Domination
Mayor Athena and Stacy became good friends over time. Athena often visited Stacy's ice cream/coffee shop. The two ladies commented on how they had started in the world of female domination and how George became her sub-male husband. Stacy was having a cup of ice cream while telling Athena how she had discovered that George had cheated on her with a woman he met on Slave Selection. "Then he begged you to forgive him and in return, he would be your sub-male husband for life," Athena said after finishing her cup of tea.
"Yes dear, it was somewhat uncomfortable at first but I did a good job of training him over the years. I finally decided it was best to continue his training in the femdom village." The mayor pulled a brochure out of her purse and showed it to her friend, "Honey, I wanted to show you the new accessories that arrived today and I thought you might want to try them on your sub-male husband. "The two ladies continued talking about it for a while longer. The next weekend, the ice cream shop closed for fumigation, so Stacy decided to go for a walk with George through the town.
Preparing George For Tonight's Activities
Usually, when Stacy and George go for a walk, he is on all fours with a collar around his neck attached to a leash being led by Stacy but this day was different. George still had his leash on but Stacy had made her sub-male husband walk in high heels with his hands cuffed behind his back. They walked at a steady pace with George always behind Stacy. They arrived at the town and entered a business that George didn't recognize because Stacy made him look at the floor before entering the store.
Upon entering, George is taken by a couple of young ladies to a bed where he was immobilized with a muzzle on his head. One of the two girls prepared the wax for hair removal and the two ladies began to wax every part of George's body with the intention of leaving him without any body hair. Before leaving, Stacy shaved the little hair that her sub-male husband had on his head. "Today will be a special day darling, I'll let you have some pleasure," said Stacy, smiling at her sub-male husband. He still had the muzzle on that prevented him from speaking. He moved his head with joy while his wife finished shaving his head. The two girls who continued to wax his body were given the order to ignore George's groans of pain.
The Sub-male Husband As Pamela The Sex Doll
While George was being waxed, Stacy was at the reception area looking at a catalog of different outfits. Stacy looked through the catalog until she found an outfit that she liked a lot. "This one I want," she showed the owner of the establishment. "Well Miss Stacy, I have one with the correct size in addition to the accessories that our Mayor wants us to try on your sub-male husband." Both ladies went to the area where George was waiting, without any hair on his body. He noticed the room was decorated like a doll house with a large sign that read SISSY on the wall.
Stacy took the muzzle off of her sub-male husband and before he could say anything she placed her fingers on his lips. "Shiiii honey, you're still holding a vow of silence, but today you're going to moan like never before." Stacy put on George's head a skin-colored latex mask with the mouth of the mask wide open. Then, she removed the muzzle he had on and replaced it with a special muzzle in George's mouth forcing him to keep it wide open.
She Feels So Real
And finally, Stacy put on a full-body latex suit with a pumping system that increased the size of the breasts and buttocks in addition to reducing George's waist. "Let's make my sub-male husband look like a porn star with big titties, big ass, and a small waist," said Stacy. One of the ladies who waxed George started programming the pumping system leaving George with a nice figure. "It looks like an inflatable sex doll," said the clerk when she saw the sub-male husband. "Yes, I can suggest a suitable wig," the lady took a wig from the shelf with long blonde hair and put it on George, "I love it!!! He looks just like Pamela Anderson," Stacy said when she saw her sub-male husband.
"I think I'll call you Pamela," said Stacy. Stacy chose a very feminine pink maid dress, lace stockings, matching heels, and pink panties. The latex suit had protrusions on its chest that gave the impression of swollen nipples. It was then that Stacy noticed between the buttocks there was a hole around the anus.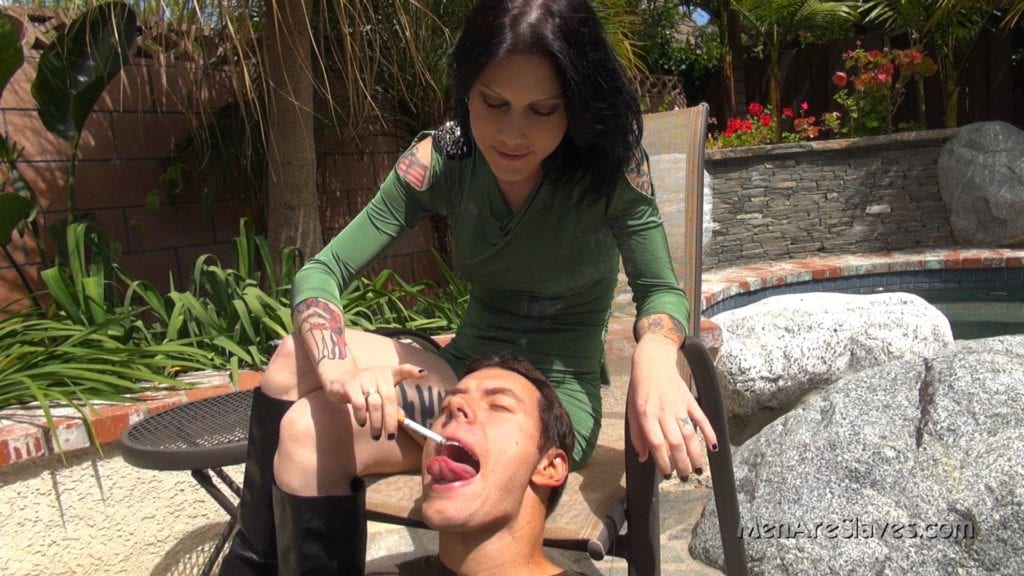 Taking Advantage Of The Sex Doll
Stacy and Pamela left the store the same way they entered. Pamela felt embarrassed by all the catcalling she received from the dominant ladies. "How does Pamela feel about being such a dirty girl," Stacy said as she rubbed George between his legs. George still had the chastity belt on. They both arrived at Mayor Athena's house. When they knocked on the door, a very attractive submissive man with a collar around his neck wearing a cock cage opened the door and took them to the living room. Stacy took a seat on one of the armchairs while Pamela leaned on the floor next to his wife.
It was then that Athena entered the room accompanied by two submissive men just as attractive. A couple more submissives carrying a coffee table followed behind her. "Let me see that sex doll that accompanies you," said Athena when she saw Pamela. Stacy gave the order for George to stand up. The Mayor fondled each part of George's body making him writhe. "She feels so real," Athena said as she spanked his ass. The two ladies sat down for coffee and a little conversation while the mayor's submissives left the room and Pamela returned to her place.
Oral Pleasure
After 30 minutes of coffee and conversation, Athena grabbed a bell that was on the coffee table and rang it to call her submissives. Quickly, the four submissives entered the room and got on all fours looking at the floor in front of the two ladies. "Well, submissives, you have all been very obedient the last few weeks," said Mayor Athena. "Today not only will you give me and my friend Miss Stacy oral sex, but you will also get to fuck the live sex doll." George heard this and was terrified. Even though Stacy could be cruel to him, there was nothing he could do. So he concluded to stop thinking so much about it and do what he was told to do.
Athena and Stacy removed the cock cages from Athena's submissives and they all took the Pamela doll and laid her down on the sofa in the living room, where they all began to touch and massage Pamela the doll which made George very aroused.
Two of the submissives began to give Athena and Stacy oral pleasure. "My God what a tongue, he licks me like a hungry dog," said Stacy, enjoying the oral sex the submissive was giving her. "You can piss on him if you want, he will drink your golden nectar with pleasure," said Athena. Mayor Athena pissed all over her submissive and Stacy watched as he drank it with pleasure without spilling a drop. Stacy did the same thing with her submissive and he also drank her golden nectar eagerly.
Insatiable Bitch
Pamela managed to give the other two submissives a hard-on. One of them put his penis in Pamela's mouth while the other began to dilate Pamela's anus with the intention of penetrating it. George inside the suit was very aroused. He had never had a cock in his mouth but was forced to take it because of the accessory he had in his mouth. George started to moan when he felt one of the submissive's cock inside of him . The two submissives put Pamela on all fours so they could penetrate her on all fours. Both ladies watched the act while they had a strong orgasm from the oral sex being performed on them.
"It seems like your doll is an insatiable bitch," Athena said, breaking her voice. "Pamela looks like she is really enjoying your submissives," Stacy said why pushing the submissive's head to the side to intensify the sensation on her intimate parts. All of a sudden, both submissives ejaculated inside George's holes while he involuntarily released pre-cum.
It was the other submissives' turn to penetrate Pamela. Their penises became erect almost immediately. The submissives that already penetrated Pamela began to savor the ladies' anuses. "No one ever licked my ass like that before," Stacy said as she approached Athena, who kissed Stacy's lips, an act that Pamela could not see because she had a cock in her mouth and another in the middle of her breasts. The submissives continued to penetrate Pamela in both holes. Pamela felt like she was splitting in the middle and she could only hear the moans of both dominant ladies.
Bukakke On Pamela
Stacy completely enraptured stroked the cheek of the submissive giving her pleasure, "I would love to see Pamela in a Bukakke." Athena made a sign with her hand and both submissives joined their partners, laid Pamela on the floor, and ejaculated all over the sex doll while Stacy took a video of it. "I'll use it to blackmail George another time."
It was already late, and a loud thunder was heard in the house as it started to rain heavily, "We will have to spend the night here dear. Pamela can sleep in the living room inside the cage." The submissives put their chastity belts on, went to the room where the cage was, and brought it to the living room. Pamela had to squat down to get inside. Stacy placed a blanket on it to cover the cage, "Sleep well dirty girl," Stacy told the doll.
Athena approached Stacy from behind and hugged her, "Don't worry about your wife, she will enjoy herself tonight as she has never before," said the mayor. Before fully covering the cage, both ladies gave each other a hug and a hot French kiss. Athena covered the cage and they both went upstairs. Athena closed the door behind her to avoid any unwanted guests.