Dinner Is Ready For My Femdom Professor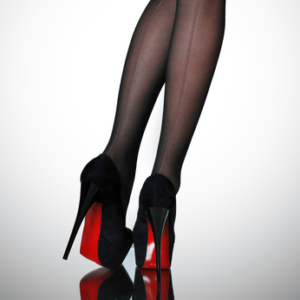 That night, in spite of my nervousness, I managed to avoid any major  disaster in the kitchen. Bella, my femdom goddess showed me where things were and told me how she wanted her steak. Then she disappeared, leaving me to fend for myself in the kitchen. It was a large Victorian house, old but recently remodeled. The kitchen was gleaming and modern.
Far away, I could hear her typing in the study. When I stuck my head in and told her that dinner was ready, she nodded and neatly stacked away the papers she had been working on. She was dressed in a pale- orange flimsy thing, long and profoundly sexy. It buttoned down in the front and I was sure that she had nothing on under it. We entered the dining room. I held her chair for her and lit the candles. It wasn't elegant or smooth, of course, but I was eager and willing.
I Love Serving Her
When she complimented me on the steak I beamed with pride. She leaned back finally and sipped her wine. "You like doing this, don't you?" I said, "You're the loveliest woman." "No, I mean you like doing things for me, don't you? Waiting on me?" "I hadn't thought about it," I said truthfully, "But, yes, I guess I do." I asked, "Is there something wrong in that?" "No, not wrong," She held out her glass and I replenished it. "It is just that some people give and some people take.
You, it seems are a giver." She looked at me seriously. "Which is fine, you know, because I happen to be a taker." I looked away. "But isn't everyone a little of both?" "Sure, sometimes. At least most couples try to make it look that way, try to make themselves believe that there's a real give and take on both sides. But I prefer not to compromise or pretend, not when basic passions are involved.
Her Speech Excites Me
One's basic passions should remain undiluted. That's why interracial sex is so attractive: the difference in race heightens the passions and makes pretense less possible." I was excited by her speech, but vaguely troubled. "I don't see why race should ah, intensify anything." She laughed aloud at my naiveté. Still smiling, she rose and carried her glass into the living room, seating herself on the white leather chair in front of the fireplace.
I followed and stood awkwardly beside her for a moment, there being nowhere for me to sit. With a motion of her glass she indicated a place on the carpet at her feet. I sat down, feeling clumsy and embarrassed. Bella, by contrast, looked utterly serene and self-confident. Sighing faintly, she leaned back in her chair and kicked off her slippers. I stared at her lovely narrow feet, soft, well kept, unblemished. "You have lovely feet," I whispered.
Foot Worship
She nodded. "Massage them for me honey," she ordered softly. "It's been a long day. And while she sipped her wine, I did so, feeling myself grow excited in a new, thrilling way. Her feet were warm to the touch, so smooth and brown and light-soled. "Now use your mouth, white boy," she said, her voice still low but taking on a throaty edge. I kissed her pretty painted toes, licked them with my tongue, feeling her wiggle them in luxurious triumph when I took them in my mouth.
I soon began to long for the rest of her body, but instinctively I knew that I must await her command. At last she rose and slipped out of her silken garment, completely nude as I had hoped she would be. I started to get up myself, but she whispered, "No, no baby, I want you to stay on your knees,"…..and…..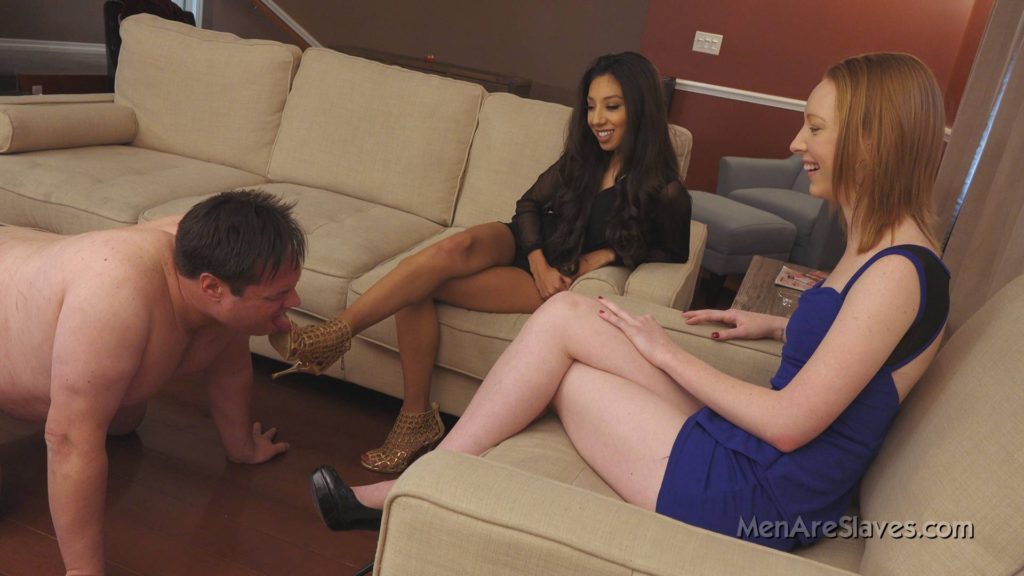 Her Juices Were All Over My Face
I stayed there, knowing what she wanted, kissing her smooth thighs and sweet belly until she tugged my hair adjusting my head until my open lips were just in the right place. She held my head tightly in her strong black hands and bucked wildly against me, fucking my face with complete abandon, her juices flowing into my sucking mouth, and finally she was getting there, groaning savagely while she came and then staying there, not letting it pass, until she came again, even harder this time.
When she released my head at last, I expected she would let me rise. Instead, she stood up turned her back to me and leaned forward with her hands on the chair "Now do my ass, baby, while I cool down," she said. Excited more deeply than I had ever been, I began to kiss her lovely round buttocks, so swept away that it never occurred to me that I was doing what I had never done before, not even in a femdom fantasy, finding a whole new sweetness of desire in me.
Ass Worship
"Spread my cheeks wide open so you can service me fully, completely and deeply," she commanded. Hesitantly; but obediently, I spread her smooth, soft beautifully curved black mounds of flesh until she was gaped wide open and I was staring at her pretty little brown and pink rosebud. It was all slick and glistening from the pussy juice that had trickled down her thighs and deep into her crack and, as I looked, I thought I saw a trace of something that looked like a brown speck. Oh, my God!!!…. I had such a phobia about germs….. could I really bring myself to worship that part of her body.
"C'mon, punk, kiss my ass and worship it like a good little honky slave." She muttered irritably and then in a low, menacing, threatening tone, she warned me, "Don't keep your Black Femdom Goddess waiting or I'll have to punish you, Bitch." Unable to resist or disappoint her and frightened by the tone of her voice, I took a deep breath, closed my eyes and buried my face in love's second crevice, feeling her firm globes tremble as my tongue worshipped her there.
I Hesitantly Obeyed Her
"Oooo….Yes,,,,,that feels good, Sugar Plum. Now stick your tongue deep inside and tongue fuck me like a good little sissy white boy." I was so shocked and  surprised I wasn't sure I could bring myself to comply. How could I possibly slip my tongue deep inside her brownish pink little rosebud?  The very thought of my tongue touching any residue of feces in her ass actually made my stomach queasy and I felt like I might vomit if I tasted her shit.
When she suddenly pushed back against my tongue and it slipped effortlessly and deeply into her ass, I had to stifle my initial distaste and control my desire to throw-up as my taste buds confirmed the musky, dank, acrid taste of her anal canal. However, I did not want to disappoint Bella and her voice took on a steely dominant edge as she forcefully directed me to push deeper.
A Good Try For The First Time
"C'mon Bitch, tongue fuck me deeper, faster and harder you worthless piece of shit." Submissively and passively I obeyed her commands, even though I had to suppress my body's instinctive reflux response. Although I felt like I was going to be sick, I was surprised and shocked at how quickly I became accustomed to the taste and odor of her asshole.
I inwardly beamed with pride as she praised me for sticking my tongue and face even deeper into her gaping ass as I began to tolerate, accept and embrace this new form of worship. It was a long time before she finally turned and patted me on the head. "That was nice, white boy," she sighed. "I think your instincts are good." "Thank you, Bella," I said."