Femdom Marriage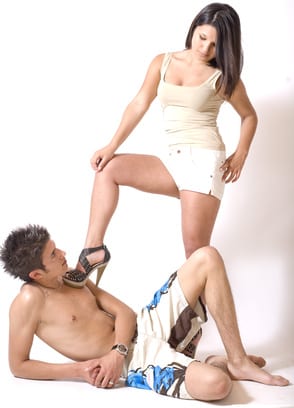 I fell in love and married Julie, my beautiful wife who is now 31, and who is beautiful and charming in every way. She has a very sexy body, great legs, and long reddish-brown hair. Our sex life has always been good as Julie is very passionate. After a year of marriage, I rekindled my intense fascination with chastity belts. The idea of being locked up sexually was always very exciting to me. Even when I was younger, I would take a short cardboard tube, put it over my penis and wear it under my underwear.
I absolutely loved the feeling of being "trapped." My wife was never previously interested in chastity belts and though I was perverted. Nonetheless, I bought myself a high-quality stainless steel belt. I liked to wear it as I enjoyed having my organ "confined" in the steel tube with only the head of my penis sticking out at the end. For it to work, my penis is inserted into a hollow steel tube that bends downward. The tube then locks to the cuff ring around the base of my genitals.
It gives me a comfortable but very secure fit for long term wear. Once locked in, it is impossible for me to escape from it or have an erection or orgasm. Julie would always laugh whenever she saw me wear it around the house, and say I look sexy in it.
I love my wife very much and it was important for me to have her hold the key. Wearing a chastity belt is much more fun when your lover has total control of your chastity. After some begging on my part, she finally agreed. After being locked up for a couple of days, Julie could see how horny I would become. She liked the change as to my willingness to please her and "earn" my orgasms. I enjoy the "frustration" of being kept chase and then being allowed to cum after great anticipation.
I also enjoy being teased by Julie. She is great at doing a striptease and wiggling her sexy ass in front of me, which drives me absolutely wild! Many times, she would keep me locked up for several days, which would cause me to go crazy with lust. Julie did, a couple of occasions, offer to end the fantasy, but I always begged her to continue, as I love being at her mercy sexually. I know it sounds strange, but I feel "naked" without my chastity belt and I much prefer to wear it!
After about six months of chastity play, my wife started meeting other women who had chastity belted husbands of their own. Julie was amazed at how many men like chastity control! She enjoyed hearing how the other women keep their husbands in line sexually, and how much pleasure the couples would receive (and freedom for the wives) when the husbands are kept chaste.
Without going into detail, there were reportedly some very kinky things going on! Now I know that this isn't a lifestyle for everybody, it is defiantly the lifestyle for me, and I want to do it with Julie as the gatekeeper of my penis! Julie gave me one last time to call it off, but I begged her to be my Mistress and to never stop the fantasy. I also reminded her that there was no way I could ever cheat on her being locked up!
I shivered with excitement as she locked me up. After everything was locked, she grabbed the tip of my penis and said: "this belongs to me now!" When Julie came home the next day, she presented me with a strap-on dildo. It was 8″ inches long and was much longer and plumper than my 5″ penis when fully erect. After I removed my clothes, she snapped it on over my chastity belt.
The snap-on dildo endowed me with a very impressive artificial hard-on. Once she undressed, Julie told me to make love to her. After I climbed on top of her, Julie moaned as I lowered my artificial cock into her hot slit. She moaned louder as she took in all 8″ of it. It was just like real lovemaking, except my real penis, was safely locked away in the bent tube.
I had no trouble bring my kinky wife to orgasm. I made love to her several more times with my artificial penis. It would drive me, wild making love, to Julie while my own penis remaining chaste. I cannot begin to describe the kinky tension having to screw my beautiful wife with a fake cock. Julie, in turn, said it felt better inside her than my real cock!
After 2 weeks of celibacy, Julie had me strip and sit in a chair. My hands and feet were restrained, then she unlocked me. My penis went to an immediate erection. I tried to reach and touch myself but the wrist restraints prevented it. Julie smiled and said that I won't be allowed to touch it because my cock belongs to her. She teased me by gently pulling on my nipples and then running her tongue around them. She then got on her knees and wiggled her breasts above my crotch but was careful not to touch my penis. Julie seemed to take real pleasure in teasing me out of my mind!
She then sucked on my toes and ran her tongue up my thigh. I begged her and said, "I can't take it anymore!" She laughed and proceeded to lick her way up my other thigh. When she was done, she asked me if I liked having her as my Mistress for life. "Yes" I said, "but I can't take it any longer!" "I need to cum! I want you, I want you bad!" She delighted in how bad I wanted her. She giggled as she reminded me again that my penis belonged to her forever while she stroked me faster. "You will remain chaste for me, strictly for my pleasure alone," she added as she played with my tool.
In no time, I squirted my load for her. With her other hand, she caught my ejaculate in her palm. After 2 weeks without cumming, my orgasm was very intense. The release was incredible! Once my penis was locked up again, she unlocked my arm and leg restraints.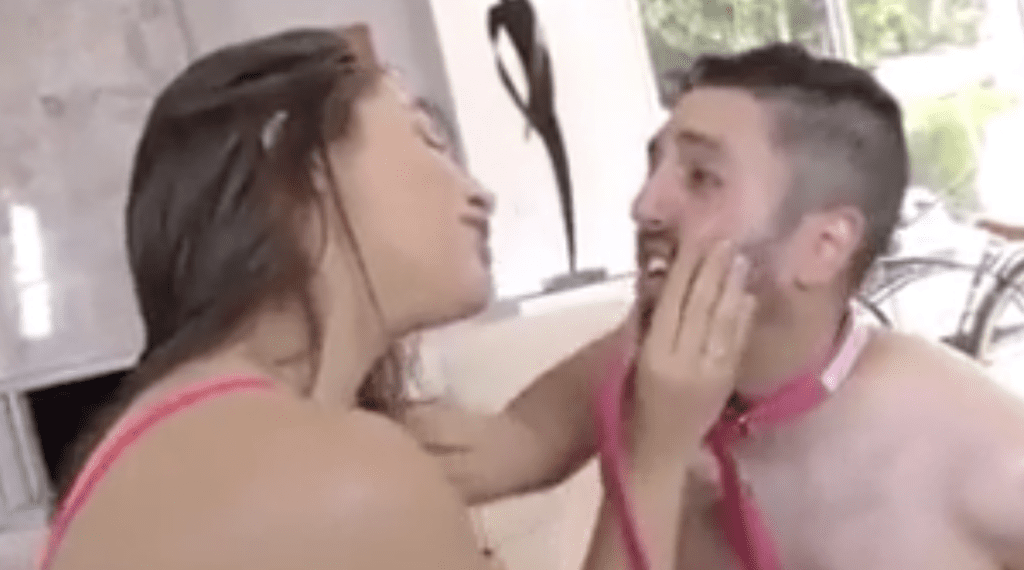 After that first experience, my wife had me in a routine. I would wear the strap-on penis for lovemaking 3 or 4 times a week, and in return, she would strap me in restraints once every 2 weeks so she could tease and masturbate me. Even though I whined and begged to be let out more often, Julie was very strict on letting me cum once every 2 weeks if I was good. I once went a month without cumming because I did not please her properly! She always likes to remind me that my penis is just too small for her pussy! She also likes to wear something revealing and tell me that my little penis is not allowed inside her, and then watch with glee as my penis tries to throb inside the snug bent tube! My whining and desperate pleas are beautiful sounds for her ears!
Over the course of the next 3 years, I continued to be prohibited from having intercourse. It only made me want her more, and Julie knew it and loved it. The more I wanted her the more she would tease me that she wanted a real man inside her. She would enjoy my panic as I would try furiously to pull off my chastity belt or try to stimulate the head on my penis, but with no luck.
Julie, who is a very beautiful woman, would tell me how lots of good-looking guys stare at her or try or flirt with her. Even though she would make me jealous, she could tell that deep down that I enjoyed the erotic frustration of chastity and hearing about other men who notice my pretty wife. (I guess that is one of the side effects of long term chastity, whereby I am submissive to her pleasure!)
Later in the Spring, Julie bought a skimpy green bikini. Just the sight of her perfect body in her bikini caused me to shutter in complete sexual frustration. She once had me lay on the bed and strapped my wrists and ankles so I was completely restrained. She unlocked my chastity belt and let me lay there with a painful hard-on. As she headed out the door for the beach, she said she might be gone awhile in case she finds any cute guys to talk to. Julie laughed as I squealed in frustration. While she was gone, I laid there helpless but very excited. I couldn't help but picture my bikini-clad wife talking to some young stud on the beach.
About 3 hours later, Julie finally arrived home. She looked at my hard-on and commented on how little it is. As I lay there totally restrained, she kissed my whole body area except my crotch. When she finished, she said she had a great time at the beach and met a very handsome college guy named Mark. She said he has a beautiful smooth, tan body and that he is on the swim team. I moaned in agony as my wife continued to drool over this good looking guy.
She said he was wearing a tight speedo-type swimsuit at the beach. She smiled seductively as she said that she liked the giant bulge in his briefs. It made me squirm in desperate excitement! At the same time, I was actually turned on by her naughty behavior. After she was done kissing my body, she cupped her hands around my penis.
Her touch felt wonderful and I said: "thank you, Mistress, please stroke me." She started to stroke me and said she wanted to see Mark again. Suddenly pulled my penis rather hard and said that I should have no objection to her seeing Mark. "After all, your penis is so small. 5 inches won't satisfy me. Mark's penis has to be much larger than yours!" "I am tired of the strap-on dildo, I need a real man inside me." She went on to inform me that I will never be allowed to have my penis inside her or inside any other woman ever again!! While the thought of never having intercourse again was scary, it was very exciting to know that I would enjoy the thrill of the ultimate chastity challenge!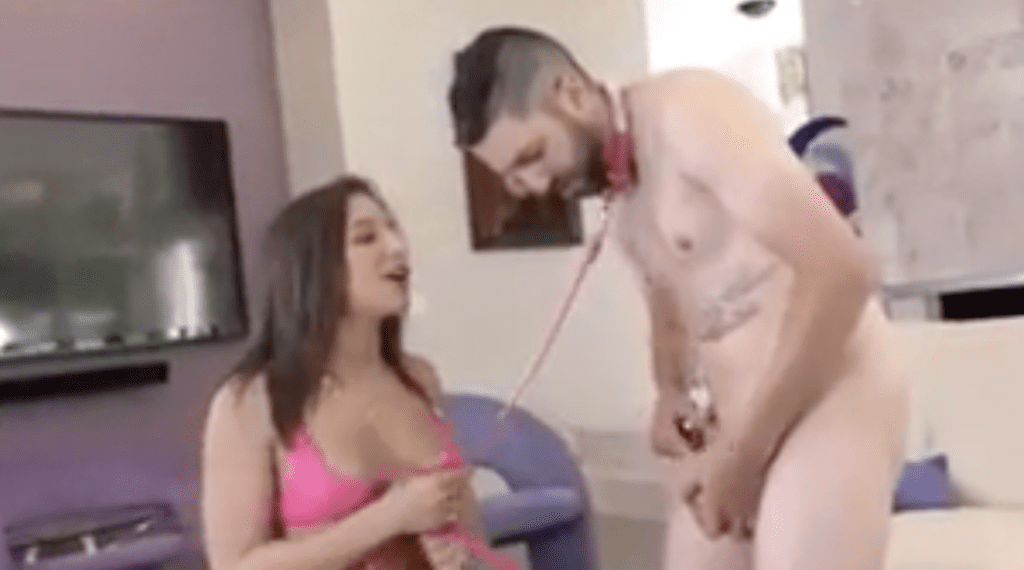 In my desperate hope, I told her "I love you, I have an undying love for you always." "I want you to always be my Mistress and I want you to do whatever makes you happy!" I thought for sure that I would now get a badly needed hand job or even a blow job, but instead I got more chastity. Julie whispered in my ear that right now what would make her happy would be another week of chastity! Ugh!! She took some cold packs from the freezer and placed them around my crotch. It was such a cold feeling. The cold made my 3-hour erection relax. When it did, Julie slid the bent tube over my limp penis and locked it in. Before she unfastened my hand and leg restraints, Julie took a few moments to enjoy my panic. She gushed over the fact that would never be able to enjoy intercourse ever again with my "little dick."
It had now been a month and a week since I had cum, a record for me! My desperation had increased, and my wife found my record chaste condition to be very erotic. On that Saturday morning, Julie had me pick out some underthings for her to wear as she would be entertaining company. I became crazy with strange excitement as I knew she meant she would be entertaining Mark! I went to her underwear drawer and picked out a pair of black thong panties along with a sexy matching bra. As I helped her dress, she asked me if I thought Mark would like them. I groaned as if I were in pain but Julie just admired her great body in the mirror. After she was finishing dressing in a shirt and shorts, she told me to strip naked. I did, and all I had on was my chastity belt.
She led me to the bedroom closet where I was given restraints. I was also given a gag to keep my mouth quiet. She closed the closet door, and I could see out the front of the door through the slants. Soon the doorbell ring. As she answered the door, I could hear a male voice. I could hear them talking in the other room. After several minutes, I heard them come into the bedroom. When they did, I got my first glance at Mark. He was a well built, extremely handsome guy with boyish good looks. I lost my breath as I saw my wife put her arms around him and kiss him. I watched in disbelief as they disrobe. I couldn't believe this was happening! With both of them in their underwear kissing passionately, my penis ached as I watching my loving wife reach and pull down his brief. As she did, Mark's penis bounced out into open view. I couldn't help marvel at the size. It was at least 8″ long and very thick with a large head. He was hung like a horse.
Julie then got on her knees and started licking his penis. It had been over a year since she had my penis in her mouth. As Mark moaned to the oral delights from my wife, I remembered how much I enjoyed having her suck me. After she was done, Julie stood up and Mark slowly removed her bra and panties. I sighed quietly as his hands started to explore my naked wife. It was quite erotic to see both of them nude together.
After watching them for a couple more minutes, I strange thing happened — my jealousy went away! I suddenly realized that I was enjoying the show and that I wanted my wife to get it on with this stud! Even though I was locked up, it was as if I was living this experience through Mark! As I quietly peeked through the slants on the closet door, my whole body tingled with pleasure as I watched Mark's fingers gently stroke Julie's pussy hairs only 2 or 3 feet away. My cock throbbed as I watched Julie gently pull on his cock. As she pulled, as extended it right in front of my peephole just a few inches from my face. I then felt this kinky and unnatural sense of gratification in knowing that his big cock will certainly satisfy my wife!
After some more foreplay in front of the closet door, Mark began leading my wife toward the bed. As they went, Julie made sure that she wiggled her ass in front of me which, of course, drives me wild! When they both got to the bed, Mark had her lay back. She looked so beautiful laying there! I watched intently as Mark hovered over her. His penis was rock hard as it was only a couple of inches above his pussy. I took a deep breath as he lowered himself on top of her.
I silently gasped as watched Mark's large cock disappear into my wife's pussy. Julie then gave out the longest moan as she took in all 8 inches of his manhood! Instead of feeling jealous, I felt overjoyed as I watched his big cock penetrate my wife. I became fascinated that Mark was enjoying intercourse, something I will never experience again. To my surprise, I discovered it was more exciting for me to watch intercourse than to have intercourse!
To watch this stud bed my wife was even more exciting than wearing a chastity belt! I had never heard Julie give orgasmic yells the way she was doing with Mark. Finally, Mark could hold it any longer. He started to moan in a very low voice. I knew he had to be shooting a big sperm load into my wife.
After they laid on the bed and caught their breath, Mark got up and headed to the shower. I looked over at Julie, as she started to get up. When I looked back at Mark, I could see his creamy white butt checks disappear into the shower. While he was in the shower, Julie opened the closet door to check on me. She then removed the gag from my mouth.
I caught her by surprise by telling her that watching her with Mark was the most erotically frustrating/fulfilling experience I ever had! Julie was delighted when I told her I was glad I was never going to have intercourse again because I would rather watch intercourse than even experience it! She smiled and told me that she promises, no matter what, that I will never have intercourse again! I still shuttered at the thought, but was elated when she said that I will be "forced" to watch her have intercourse on many more occasions!
When the water to the shower stopped, my wife closed the door and put in her thong panties. When Mark started drying off, Julie grabbed his semi-erect cock and told him, "I want a lot more of this!" Mark smiled and got dressed. They kissed and made plans to get together n a couple of days.
After Mark left, she opened the door and was ready to unlock my penis. I asked if she could please wait. Julie was absolutely puzzled. While I was extremely horny, I asked that my arm and leg restraints be released first so I could please kiss her pussy. She got a naughty smile and quickly took off the restraints. I couldn't help but remove her panties. When I did, my wife's pussy was all creamy and gooey from Mark's ejaculation.
I can't really explain why I did it, but I began to lick her pussy! I found myself licking up globs of Mark's warm, sticky cum. Julie began to squeal with excitement as I lapped up more globs of white jiss from inside her slit. While it gives me no pleasure to lick up my own cum, I found it very satisfying to be licking up Mark's ejaculate, as it has a very smooth, creamy taste. I liked the way it coated the inside of my mouth and tongue.
There was no doubt Julie liked having me lick Mark's cum out of her pussy. Julie then strapped me down and unlocked my chastity belt. Before she would touch me, I had to tell her how much I like Mark's cock. I told her that it is a wonderful cock and that I want him to stick inside her while I watch. I really enjoyed the "tension" of having to praise another man's cock while you wait for your orgasm! Finally, after I gave sufficient praise of Mark's cock, Julie wrapped her fingers around my penis and began to stroke me. In no time, I began to cum.
A couple of days later, Mark came over again and I hid in the closet. I so enjoyed watching my beautiful wife be undressed. In turn, when Julie undressed him he was wearing a jockstrap. Once Julie removed Mark's jockstrap, she made sure I got a good long view of where all that cum came from! In no time, I was watching with curiosity and delight as Mark's massive boner plunged into my wife's eager pussy. It had been over 4 years since I was inside her pussy! I
tried hard to imagine the feeling of my cock inside her. I stared Mark's cock as he it pumped in and out her, while I tried to imagine that was my cock inside her. I even tried to imagine the sensation his cock was feeling. After a few minutes of watching, I could see his cock pulsate in an orgasmic release. I knew that his load would be destined for my tongue.
My wife continued to "date" Mark for several months until he graduated and moved far away. Shortly after Mark moved, we decided we wanted to have children. Because my penis and sperm are not allowed inside her, she found a man who lives in another state who has similar looks and features as mine, including hair color and eye color. She became pregnant by him twice and we now have 2 beautiful, healthy children, ages 2 and 3. Many people have remarked on how much the children look like me (ironic, but don't know the truth)! I am a good father and I love my children, even though they were not conceived by me (otherwise I would never get to have children)!
Even though my wife had 2 children, she kept her great shape and her body is sexier than ever! We bought a duplex as a rental property and rented out the one side to 2 college freshmen. We kept the other side as our "pad." When the children are home with the nanny, I hide in the "pad" closet and watch Julie screw one (or both!) of the freshmen. They are young, blond and horny. They are both well endowed and jiss my wife good, which keeps my tongue busy! I still cum only once every 2 weeks (if I am good!) It has been over 8 years since I have had intercourse (and still counting!)
[fblike]