A Cuckold: Being Taught his True Place by his Wife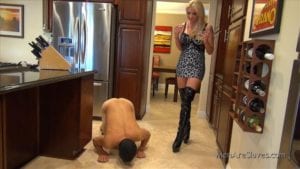 I married a woman who taught me my true place. She showed me that I was not a real man and converted me into a sissy, cuckold. Every one treated me as a real man before meeting her. But she showed me the light and trained me to be her sissy maid and cuckold. She believed very strongly in exposure so I was exposed to my friends and coworkers often while she enjoyed great sex with them while I stood by as a sissy maid.
She used humiliation as a training tool not as punishment. If I found something embarrassing or humiliating she would repeat the experience over and over until I adjusted to it. After years of this I accepted my position and was able to perform my duties as instructed without hesitation.
Humiliation:
After a while I spent nearly all my time in panties, dresses, heels and makeup. I actually became uncomfortable when wearing only men's clothes. Learning to enjoy sex as a girl being fucked with a strap on and could not cum otherwise. I was not permitted sex with her or another female but she enjoyed many men. When she cut me off she would have me serve her and her male lovers. But she would always offer to have sex only with me if I could show her a hard on.
The Beginning:
She would lay on the bed naked with her naked lover stoking his cock to rock harness. Then she would ask me if I wanted him to fuck her or if instead I wanted to fuck her. If I did she would not fuck him. Oh how I wanted to. She would tell me to lift my dress and petticoat, show her my hard on so she could see I wanted to fuck her. I would do as she told but since my little cock was well tucked back between my legs with my testicles pushed up inside me and my tight panties keeping all in place there was no hard on. She would laugh and point this out to her lover and then fuck him while I stood by watching.
Mental Castration:
She made sure to tell her lover how much bigger and better he was than I was. After many times of this I was mentally castrated and could not possibly get it up.
Up until now she had only been with white men but one night she went Black. As always I was to wait up for her and it was quite late when she returned that night. I could tell she was still very sexually wound up. Her ritual was for me to lay on my back on the bed and then sit on my face and while I ate out her well fucked pussy. She would tell me about her evening stressing how great the sex was and how proper it was she had real men.
After Care:
This night she asked me if I knew how many men she fucked and from how swollen and red she was I told her 5. She laughed and said no, it was only one but he was a real man the first real man she had ever had sex with he was a Black man!
I had been eating his cum out of her pussy when she told me this and it took me by surprise and overwhelmed me. I continued to eat her imaging her fucking a Black man and she went on and on about how great he was. It made me feel so submissive and defeated and sacred too. I didn't know what would happen next. She told me she wanted no more white dick after having a real cock a Black man's cock.
Black Cock:
Needless to say it made me twice as submissive as before and she noted it. She said how much she liked it that I was even more submissive and obedient than I already was. She did have a few more white cocks until she found enough Black lovers to keep her well satisfied. During this process she taught me to worship and serve the Superior Black race. More than once I was the servant sissy at a Black hosted dinner party where my wife attended as the hosts lover. We were both introduced to the guests as to who we were. Her as his personal slut and me the sissy cuckold husband wimp.
I am now a humble white servant to Blacks and have fully accepted that this is the proper place for all white males.
By: Sissie