The Professor Who Submitted to Mistress Caroline – Part 6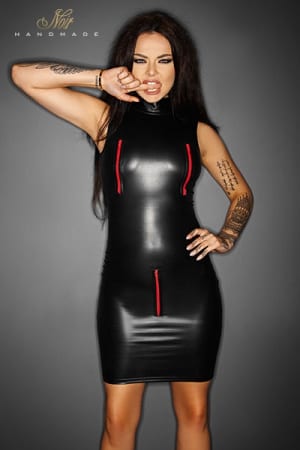 I lived. I was exalting. I was burning with this fire which I did not think I would warm up again. I was 20 years old, and I was carried away by this impulse of freedom and feelings. I needed her. Need to feel her, to be able to look at her, her smile, her body. I was addicted. From the first take. Worse than a crack pipe. And if, in order to have my dose, I had to become the whore, the bitch of Mistress Caroline, a sublime dominatrix. To go far, far in submission to the desires of my Mistress, I accepted in advance the consequences.
Serving Caroline was the embodiment of my fantasies. To love Ennia and to be able to live this love was far beyond. I was probably crazy to think all this. Caroline must have drugged me so that I was delirious at this point.
My Transition for Mistress Caroline
I was a married man, a father with a family, and I became a teenage transient of love for a red-haired goddess. I did not know anything. I only knew one thing. While Ennia's fingers were searching my ass, I was in a trance and I wanted more.
"So my lope is ready?"
Caroline was coming back. More sublime domineering than in my most erotic dreams. Latex corset, long gloves, and thigh high boots. A creature springs up from the internet, where the Mistresses abound with perfect physical characteristics, worthy of the objective of Christophe Mourthé. She was beautiful, attractive, and the most exciting woman in the world. At least in my eyes and at this moment. My desire to submit was at its peak.
Submission
(NDA: Sexual desire, at the risk of displeasing many Mistresses and appearing of a typically masculine egoism, has always fueled my desire for submission. I need to desire a woman to give to her and to serve her. This physical desire is indispensable to me, even though it is also, and I know perfectly well, my greatest weakness, by mastering it, a dominating woman possesses the surest means of securing my obedience. I am only a gentleman, respectful of women.But if a Mistress seduces me, if she knows how to play to my desire, then I become the most devoted of slaves.)
"Hmm, you did not go with my dog." You fed it with lubricant. It looks like he is wetting her pussy. You're afraid I'll hurt him or what?
Surprise!
As she pronounced her last words, Mistress Caroline put the point of a plug on my ring and pushed at once. I let out a brief groan, more of a surprise than of pain.
Mistress Caroline had to use the smallest of her plugs so I wouldn't suffered. Astonished by the ease with which she had penetrated me. Undoubtedly the fingers of my reddish goddess had prepared me well, with the gentleness she will always show me when we are together, and even today.
– Well my whore …. It looks like your ass is made for that. You are narrow but very flexible …. We will try with a bigger caliber. Look!
Mistress Caroline presented me a much bigger plug. Conical and shiny black.
-It is 5 cm at its base. That one, you will feel it pass.
I'm sure you can take it…
At first she weighed gently on my hole. Gradually opening me up. It was actually much wider, and although I was well greased, the dilation soon became painful.
– Push my dog ​​… I'm sure you can take it.
Mistress Caroline pressed harder and my ring gave way, snatching a cry of pain, immediately punctuated with a slap on my ass.
– Chuuuut my lope. You suffer in silence or I correct you with the whip. You are well filled. We'll leave him a little in place, that way you get used to it. I want you to dilate with the plug every day. I will give you a progressive training program. I want my lope to be open, and always ready to be fucked.
Ass Training
It's not all about training his ass, it is also necessary to train his mouth and his tongue, if I want to make a good cock slave.
Ennia helped Mistress Caroline to find a beautiful black strap on. I found it enormous, with a large glans, and prominent veins. A magnificent object, and also scary. She presented it to my mouth.
– Go my lope, get out your tongue and show me what you can do. My little slut, continues to work his ass with the plug.
I pulled my tongue and began to lick the glans, gently, with little blows. I pushed it between my lips, licked again, thinking of how I would like to be sucked. I thought I would do well, but it was not to the liking of Mistress Caroline. She tore the dildo from my lips and slapped me.
I guess we need retraining
-Trained, you suck like a hochie. You really need to be trained my lope. You don't think you can make a guy cum like this do you? Go … apply yourself, and look me in the eyes. It's MY tail you suck. Give me pleasure, excite me, show me that you are a real bitch in heat who loves the tail.
I was upset. And I was ashamed of being so. I did not suck my Mistress well, and even if I imagined sucking a real cock I was disgusted, yet I was upset not to get there. I would have to think about that feeling later. For the moment I resumed my fellatio, trying to satisfy the desires of Mistress Caroline.
Sucking, sucking, licking the balls, sinking as deeply as possible between my lips, to the limit of the retort, accelerating, or on the contrary slowing down, very slowly, just licking.
Humiliated to the fullest by Mistress Caroline
And I looked at Mistress in the eyes. This situation excited me. I felt humiliated but I loved this feeling of humiliation, which Mistress Caroline, my sublime dominatrix, transforms me into a sucker making me bend like a donkey.
The sensations of the plug in my ass were not foreign of course. But watching Mistress Caroline, feeling that she really felt the caresses of my tongue, my mouth on her dildo, it carried me elsewhere. Something intense passed through our welded eyes. I felt all the strength of my Mistress. All her desire too, I fed on it.
To suck and fuck
Perhaps Caroline was right. I was a bitch who was unaware, a bitch who would love to suck and get fucked too. I fed on it. Perhaps Mistress Caroline was right. I was a bitch who was unaware, a bitch who would love to suck and get fucked too. I fed on it. Perhaps Caroline was right. I was a bitch who was unaware, a bitch who would love to suck and get fucked too.
"Go on, come on." You prepared it enough. It's my turn to fuck you well.
Related posts: