The Professor Who Submitted to Mistress Caroline – Part 5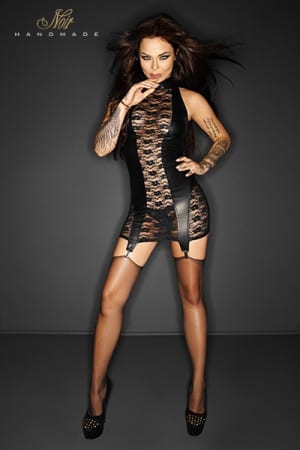 – You know, it really excites Mistress Caroline to see a guy get dominated by another guy. I love watching these kind of videos. With you, I'll be able to have this in real life! A good sucker, a tail-buff that will be well dilated in the ass. I'm going to pick you up some lovers of my slut. I will feast. Just thinking about it I'm wet! But as I am a good Mistress, I will prepare you do not worry my whore. You'll see, I'm very nice actually.
I remained in my position, kneeling, lowered. The words of Mistress Caroline, perverse dominatrix, had made me disband. I did not think I would be offered to dominant gays who would make me theres. But I also knew that I did not really have the means to negotiate with Mistress Caroline.
Fantasizing
-Ennia, my bitch in heat, goes to work looking for my new lope. We'll have to get you ready. I really want to realize my fantasy.
Ennia disappeared into the bathroom and quickly returned with a tray which she placed on the beside table. I did not dare look up to see but I could easily imagine that she was going to want to beat my ass. I had not told her that this was one of my most intense fantasies. I felt profoundly straight. Men had never attracted me. On the contrary. But I wanted to discover the anal pleasure with a woman, get caught by a good belt. If possible, that of my Mistress. I really wanted to, and I started to rebel immediately. Mistress Caroline noticed it.
Count Them Out
– We make her honey but when I talk about stuff up your ass, hard strips my lope. You see, you do want to. You will like it. But not as much as I do!
She took a necklace, wide, black, and passed it around my neck. She tied a leash and pulled me brutally.
– Go to the loop, in position. Four legs on the coffee table.
I had not seen that she had also grabbed her whip.
– You're a whore to kiss now, so I offer it to you. Your better than that dirty bitch.
My perverse ruler punctuated her order with a whip stroke on my buttocks. I let out a cry, no more surprise than pain.
– I barely touched you. Are you kidding me or what? Five shots, to teach you to close it. Count and thank me.
COUNT for Mistress Caroline
-Schlaaack. One, thank you Mistress Caroline.
-Schlaaack. Two. Thank you Mistress Caroline.
-Schlaaack Three. Thank you Mistress Caroline.
-Schlaaack Five. Thank you Mistress
– Mistress Caroline yelled,  you've just won a sixth!
And she knocked harder. I stifled a cry of pain. I felt like my ass was on fire, and I knew she had struck less strongly than before, with Ennia. She really had to suffer like a martyr. I did not like the whip, and I was hurting.
-Prepare the bitch. I'm nervous now. I need to calm down. Too bad for him ! You got 5 minutes, before I come back.
I felt the fingers of Ennia land on my anus. My second Mistress caressed me gently, spreading a cold liquid that I knew was lubricant. She penetrated me with a finger, sliding it. I loved this sensation, for having often experienced it by myself.
The slip of one finger..
– Relax…. I will dilate you a little more.
She pressed a second finger. I tried to arch my way to the maximum, and to give her my hole. I even came to meet her fingers, to tell her she could go. She withdrew and replaced her fingers with a cannula attached to the bottle of lubricant. She injected a good dose and then resumed her anal massage, adding a third finger, harder.
"You're cramped, I think, you really need to be relaxed, or you're gonna die." You know, I never fucked a guy, but that's my fantasy. Mistress promised me she would allow me to fuck you one day.
Fucked by my redheaded goddess. The idea of ​​belonging to Ennia made me bend instantly. And I began to dream, without any restraint, imagining her with a huge dildo, begging her to kiss me, to make me her female. Calling it my love, darling. I fell in love with her. And this obviousness upset me.
Related posts: