The Professor Who Submitted to Mistress Caroline His Dominating Student – Part 3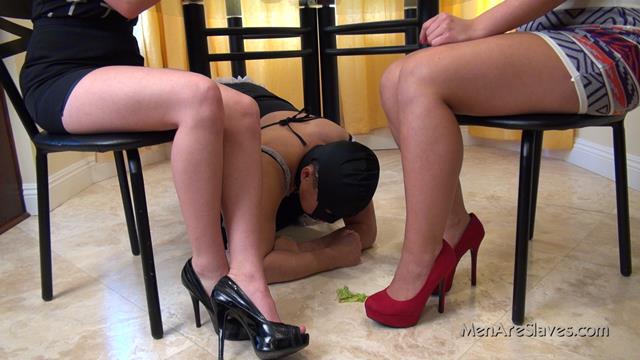 – You are really two bitches in heat … you only think to kiss, real whores.
Mistress Caroline had swapped her phone for a fine black whip, with which she casually caressed Ennia's divine posterior before slamming it on her skin.
– Stand dirty bitch … you disgust me, a real drag, you will be punished for my enjoyment, you have not thought once of your Mistress when you were fucking like I saw. Believe me, you're gonna take it. YOU ARE MINE AND MINE ONLY, YOU THINK ONLY OF ME, YOU PLAY ONLY FOR ME. Get out of my sight, go wash, you stink.
An Angry Mistress Caroline
Mistress Caroline had screamed, obviously, in a black anger, of which I did not know whether it was feigned or not. In any case, the track of the whip was seen perfectly on the white skin of Ennia's ass. For my part, I was always lying on the ground, the tail dangling, and I really did not feel to my advantage. I only wanted to get out. But I suspected that Mistress Caroline had other plans for me. She approached and put her foot directly on my cock, pressing enough to make me tear and groan, without actually hurting me.
"You are now mine." Do you accepted my offer, like this whore of Ennia, so you agreed to become my submissive. It was the deal. And I've filmed everything, and saved everything already. I do not advise you to try to scroll, I do not think the director likes to see you fuck one of your students ….
-Caroline, I do not ..
Who Do You Belong To?
"Mistress Caroline," she rectified, pressing a little harder on my cock. You belong to me now. Do not forget it. It's Mistress Caroline every time you talk to me. And you only speak if you have been invited to do so, is that clear enough?
– Yes Mistress Caroline, very clear.
I did not know what to think. I lived what I had long desired, dreamed, fantasized for years. But I was afraid. Afraid of all that this could upset in my life. Afraid of losing what I had, but so tempted by what I had to gain, namely a sumptuous Mistress and the possibility of finally being what I was in the depths of me, a submissive, a man desiring to obey And serve his divinity. Caroline withdrew her foot and stepped back to sit in an armchair facing me.
Show me what you can do Slave!
You see fucking like pigs that excited me. Come on, show me what you can do with your tongue. I want to enjoy it. And you have an interest in applying yourself. I can not stand bad lickers.
I approached on all fours, eyes fixed on the most sublime vision of the world, the pussy of the one who was now my Mistress. Smooth, moist, just beautiful. I loved deeply licking a woman, and I was hoping Mistress Caroline would like my expertise. I started gently kissing and tonguing around her vulva, but Mistress Caroline grabbed my hair and put my mouth on her lips.
– I ordered you to eat my little pussy shit, not to taste my lips. Lick me, and make me enjoy.
I obey her, doing my best to lick, push my tongue as deep as possible, suck her clitoris between my lips, then lick again.
Appreciating my work?
She kept her grip and I only existed by my tongue. She visibly appreciated my work, panting more and more strongly, and exhorted me to continue, without stopping.
From her whip she came from time to time to slap my ass lightly, calling me all names. I felt her pleasure go up, and I concentrated on her clitoris, until she started shouting while I was drinking her nectar. She pushed my face away, and I remained on my knees, thighs spread, hands in the back, watching her resume her spirits.
"Not too bad, but I'll have to teach you what I love." You will become a perfect licking dog that I can lend to my friends.
– Thank you Mistress Caroline.
The answer was dazzling. Then a sound and painful slap that I did not see coming.
Smack!
"Did I allow you to talk dirty whore?" Tell me, did I ask you for an answer? Did I ask you to punctuate?
-No Mistress Caroline. I beg your pardon Mistress Caroline, this will not happen again Mistress Caroline.
"You really need to be trained. I'll take my foot, you have no idea what I'm going to teach you my bitch.
Ennia was back. Dressed only in bracelets of strength, ankles and wrists, and a large black collar. She came to kneel at the feet of her Mistress. Caroline leaned over and seized the point of her submissive bottom.
Look at my little lope, look at my submissive, and the result of my dressage. She is now able to close it when it is needed. Not even a groan.
As she said this, she stretched and twisted the point between her fingers. I watched Ennia stiffen, but she was getting in. Caroline played for almost a minute torturing this point.
Ennia's Torture
Ennia's face clenched. I could see her jaw tighten, and a tear bead. She was suffering, but in silence.
"You see, she endures, but she closes her mouth, as I taught her. You too are going to learn, to be silent and to suffer, believe me. Otherwise you will suffer even more. It's just like that gets into the head of the lopes like you. In strength! She said, laughing. Now you're gonna go and clean you up. You feel my pussy still on your nose. My bitch, accompanies it, and makes sure to wash it thoroughly.
I had the impression that Mistress Caroline had punctuated her last words with a nod to Ennia. I was not sure, but I was not sure what to expect in the bathroom.
Related posts: