SUBMISSIVE MALE HUMILIATION GAMES
SUBMISSIVE MALE HUMILIATION GAMES
Humiliation games are designed to create that place where males feel deeply submissive.
Femdom humiliation games – husband humiliation
Some random humiliation game ideas for women to use on their submissive men
As a consentual, negotiated, fun, happy, loving role playing game.
It could be used in various games, a couple rolls of the dice to see where his future lies, spin the wheel… Someone mentioned using the daily lottery numbers for determining the 'punishment of the day'.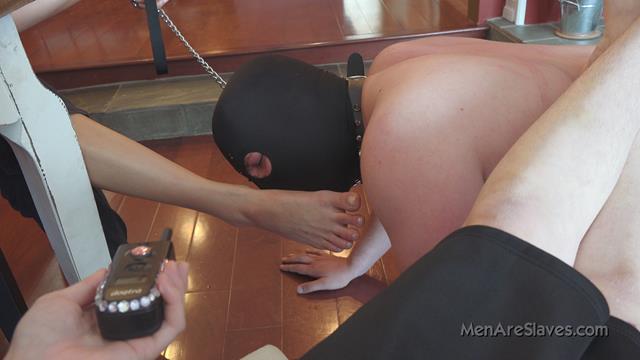 List of teases:
– make him strip naked while you keep your clothes on.
– have him kneel before you and kiss your feet.
– have him address you as 'mistress'
– have him kiss your anus…make him beg to kiss your ass.
– tie his hands and have him undress you with his mouth/teeth.
– don't let him masturbate or touch his cock without your permission
– tie his hands behind his back. Have him kneel with knees spread
naked in front of you while you read or watch tv, occasionally nudging
his balls or penis with your shoes.
– use some strong string (kite string), tie a slip noose in the end
And tighten it around the head of the penis, tug on it, pull it
Shake it, lead him with it, whatever you please.
– show your slave your panty crotch, make him smell it, but no touching.
– tie your slave spread eagled to the bed and tease him for hours.
Make sure he has a big hard on, but once he does only touch it
When he needs just a little more encouragement, don't let him cum.
Put on his favorite lingerie and tease him with it. Scratch him with your finger nails. Tickle him. Pinch his nipples. Sit on his chest and find out what he would do to be allowed to kiss your nipple..let him almost kiss it but pull away, make him beg. Take a break, put some worn panties over his face and leave the room for a while and let him think about what else you might do.
Squat above his face, make him reach with his tongue to taste the crotch
of your panties…get more promises.
– blindfold him and make him lick you to several orgasms. Take a break,
cum back and do it all again.
– rub his face against your pussy or sit on his face, but gag him with
Your panties or a gag so that he can't lick you.
– tie his balls off to something behind him so he has to tug on them
to smell your panties or kiss your ass…stay just out of reach.
– masturbate in front of him. Use a dildo or a vibrator.
– put the base of the dildo in his mouth and make him satisfy you with it.
Do it so his nose presses between your ass cheeks. He'll be your little
brown noser and love it.
– make him lick the dildo clean.
– tie him down to the bed and tie his hands to his penis but do not
Give him permission to cum with harsh punishments for disobedience.
– put your worn panties over his head so he can smell your odor.
– make him wear a cock ring (a cat collar works well)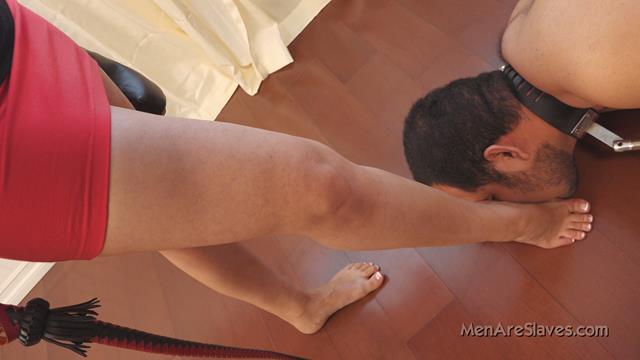 List of humiliations:
– make him wear your panties or lingerie, dress him up as a little
girl or a french maid.
– make him do housework naked or dressed in women's clothes.
– make him hand wash your panties and lingerie.
– make him wear a collar and lead him around with a leash like a dog.
– ride him around as your pony boy…spurs? A riding crop?
– attach a leash to his balls or cock ring, and lead him around with that,
– tie it off in front of the sink while he does the dishes.
– dress him up like the slut that he is, wear a strap-on dildo and make
him beg to suck it. Fuck him.
– make him wear your panties or lingerie under his regular clothes when
he goes out or goes to work so that he will think of his mistress constantly.
– if he is horny and you are not, make him strip and kneel silently
in front of you and order him to stay erect.
– make him masturbate for you, make him beg for permission to
cum, don't let him, punish him if he does by eating his own cum.
– make him earn his rewards; for example:
allow him to kiss your ass after the dishes are done.
1 minute of pleasure for him for 30 minutes of yours.
5 minutes of pleasure for him after he makes you cum 5 times.
spank him 10 times for each minute it takes him to cum.
– if you think he's earned an orgasm, make him cum on your feet or your ass
and then make him lick you clean.
– order him to bring himself to the edge of orgasm and stay there until
you give him permission. When you give the command he must cum within
5 seconds or he will be punished or not allowed to cum at all.
– if he's really horny and bothering you, you may want to curb his interest
by ordering him to jerk off 5 or 6 times in a row. Use it as skin
conditioner… 3 times on each foot, have him spread it around
and lick them clean after each time.
– make him lick you clean after sex.
– when you go out, order him to tie himself up, be naked or dressed up as
a girl and be kneeling at the door for when you arrive.
– make him think of a new way for you to humiliate him. Punish him if you don't think it's good enough.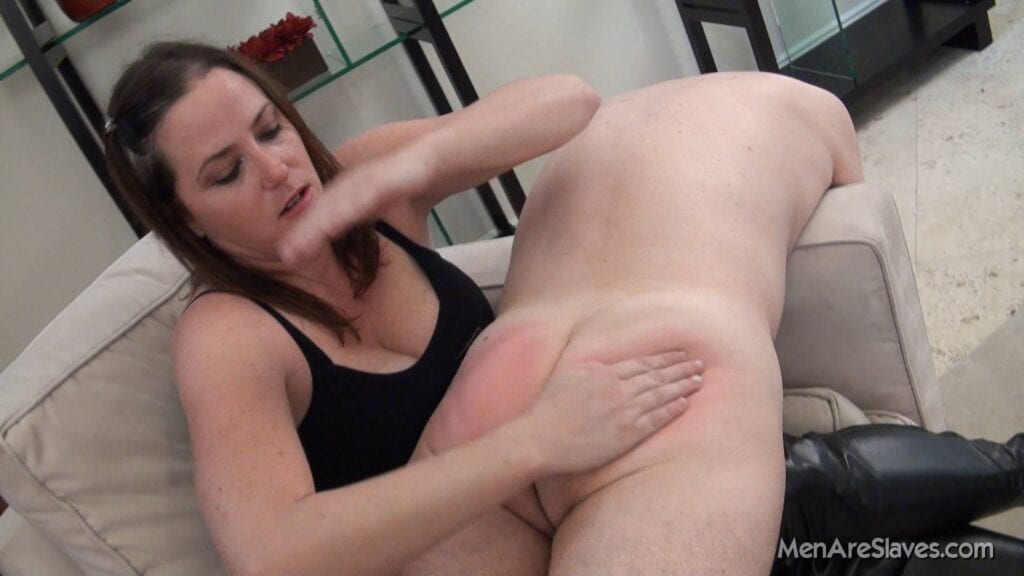 List of punishments:
If he's not performing to your satisfaction, or you just feel the
need to assert your right to punish your slave.
– spank or whip him. (wooden spoon, hairbrush, belt, ruler,
Ping pong paddle…)
– tie him in an uncomfortable position.
– tie his ankles together and attach his balls to them.
– hog tied. (wrists and ankles tied together)
– hanging from the ceiling by his wrists.
– in a chair with his knees pulled up to his shoulders – good for
spanking and everything is exposed and vulnerable.
– tie up his balls and cock with a long leather thong, clothes line, or
boot lace. Use a long piece, and wrap the base and balls repeatedly.
do each ball separately. Tie tight loops around his shaft from base to tip then tie the end off back between his legs and up to a belt or to his handcuffs.
– make him wear a male chastity belt or cock cage.
– attach clothes pins or nipple clips to his nipples, balls, cock
or wherever.
– put a butt plug in his ass. Or get out the strap-on.
– enema.
– don't give him permission to cum.
– tie him up in a chair with his knees pulled up to his shoulders and allow the cat or dog to lick his penis.
– deny him orgasms for a long period of time.
– have him lick you clean after you pee.
– put ben-gay or icy-hot on his penis and nipples.
– drip candle wax on him.
– make him do exercises (jumping jacks, leg spreads, squats, aerobics…)
– humiliate him in public…take him shopping for panties/lingerie
http://the-femdom.com/humiliation-stories/page_male_humiliation_games.html
Related posts: