The Professor Who Submitted to His Dominating Student: Mistress Caroline – Part 13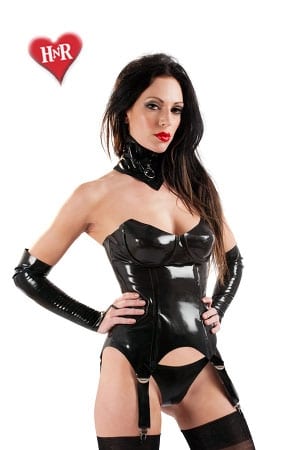 My dominating Mistress Caroline stood behind me, and put the tip of her enormous dildo on my anus. The sodomy administered by Chloe had prepared me, but I was sure that Caroline was going to tear me, so appendix was big.
"Go on with my bitch, it's time you get a good sweep." You will understand what it means to burst your ass. Chloe, get him off the buttocks please. Come on, open for your divine Mistress!
So I screamed when the glans opened my puck.
"You sow the sow, you deserved it! Chloe, put him the gag-ball, this dirty whore will roam the whole building!
Divine Mistress Caroline posed, then, her hands on my hips and pushed to penetrate me. Slow but uninterrupted pressure. I yelled in my gag, excruciating pain and feeling of being completely torn.
In ecstasy during the session
"That's my bitch, you see you've got it right. I'll open you up regularly. And I will offer you to well-mounted blacks. Chloe and I are going to feast on watching you fuck like a sow, chain. Sure you're going to like it, is not it my bitch? You do not have the choice of the rest, turn your head a little, you see the camera? She's been spinning for a while.
I screamed and cried while Mistress Caroline crumbled me unceremoniously. I was crying in pain, in fear, in despair but I loved it. I loved that she kisses me, that she humiliates me. I loved my Mistress for what she did to me, and the pleasure I took in being thus used as the last of the whores. I only lived that moment. I forgot everything else while Mistress Caroline dilated me and slammed my ass.
Header
It does not matter that she is filming me, she already had enough images to destroy me.
Mistress Caroline was amusing herself to withdraw herself entirely, and then to resume me at once, as deeply as possible. During this time, Chloe did not lose a crumb and was pleased to comment.
-Hmmm looks like it is well dilated! So, you've completely fucked her ass! Look at this bitch, as she takes it !!!! I am hacking !! Look, she impales herself !! She likes this bitch !!!
Thus, I lost the notion of time, unable to measure how long my brutal sodomy session had lasted. Mistress Caroline finished withdrawing, her anger visibly calmed. But not his excitement, neither Chloe's. So I had to lick them and make them enjoy several times. I was exhausted, my face stained with water. I felt like my ass was gaping and I could stomach the sex. However, I felt good. I felt a certain plenitude, which I still refused to accept. The time to go to the station was approaching, and fear was mounting.
Total submission to my divine Mistress
However, I always carried my cage and the mere idea that Mistress Caroline did not want to deliver me put me to the brink of tears. She knew it, and intended to play it to the end.
-Tell me ! It will soon be time for you to leave us, is not it?
-Yes Mistress Caroline!
– Well, you can get dressed. Do not you think we're going to help you either?
Mistress enjoyed seeing my face decompose. So I burst into tears and threw myself at his feet:
"I implore you, Divine Mistress!" For mercy, I can not go home with my cage. I will do whatever you wish Divine Mistress! I beg you ! Please free me! I will become your bitch, your bitch, I will obey you in all Divine Mistress.
The chastity cage
-You will become my whore, my bitch ???? But you are already. What do you believe ???? That you still have a chance ??? YOU ARE ME, MY CHOSE, MY SALOPE !!! And it's just beginning !!!
I cried kissing the feet of my divine Mistress Caroline. After several minutes, she put an end to my ordeal.
-Get my bitch, I'll release you. Needless to say that any masturbation is forbidden?
– Yes Mistress, I promise you, I will not enjoy!
"I do not believe you for a second. And you will be punished on your return for these enjoyments without authorization. Believe me, you're gonna take it! Even if you keep your commitment, I will punish you. I love it too !!! Come on, come on, get dressed. And try to calm your erection, it looks like a donkey in rut!
Scarcely had the cage been removed, I had begun to bend hard. Very difficult. Chloe took pity on me, at last I thought so.
End of SM session
"Dave Caroline, you can not let him go in that state, it does not happen," she said, with a wink at her domineering friend.
"You're right, we miss all our duties. Go my male in heat, you will jerk on my leggings. Execution !!!
I did not pray and I masturbated quickly. Chloe had passed behind me, and she was kneading my balls, accelerating my enjoyment. I enjoyed long on the latex that wrapped the thigh of Mistress Caroline. An abundant cum.
-Continue again, empty you well in full my bitch …. At least tonight, you will not want to start again …… well … now it will be necessary to clean before leaving. Go lick!
Then I fell on my knees. I had no time to feel sorry for myself. Licking my sperm disgusted me, but the minutes passed and I could not miss my train. The one who would separate me from my Mistress, from my Mistresses during the Christmas holidays. Two weeks of deliverance or hell, I still did not know. And while I licked the last traces of cum, only one thought occupied my mind: where was Ennia?
Related posts: