The Professor Who Submitted to His Dominating Student Mistress Caroline – Part 9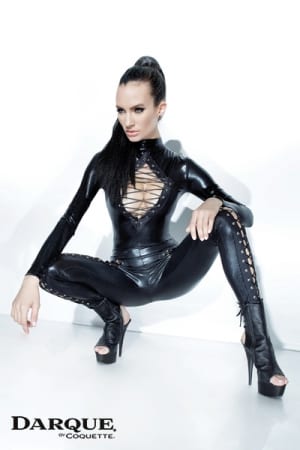 I received an SMS from Mistress Caroline, my student domina, around 10h. My class was to begin at 1 pm.
"11 o'clock in front of my apartment door. You strike, you go in, you go naked except your pants and your stockings, and you wait, on your knees, hands on your head.
I had little time to prepare. At 12 o'clock I was at his door. I knocked and entered. I undressed and I waited for Mistress in the position she had ordered me, that is to say on my knees, thighs apart, hands on my head, look down. I had to wait a few minutes, I was anxious. What was she going to do to me? Was she going to free me from my cage? His sublime feet in pumps soon entered my field of vision.
Collared Slave
Mistress passed behind me and placed a necklace with a leash on my neck. She drew a blow to make me put on all fours.
– Follow me the bitch!
She led me unceremoniously into the drawing-room. I kept my eyes down, and I discovered other feet, also stocked with pumps. But it was not Ennia. Fear swept over me, and I was stuck.
"Then the whore, do we forget good manners?" You do not know how a bitch must greet a woman that presents her Mistress ????
-… I….
– What's my dog?
– ……
I was just tetanized. I recognized Chloe, one of my pupils, a tall, sublime black, very slender, and rather effaced. I blushed immediately, and I went awkwardly towards her feet, which I was to honor.
Mistress Caroline thrust the nail:
"You see Chlo, I did not lie to you. I made a nice little bitch of our teacher. Cute eh? Did you see her stockings, her panties? And you will never guess what's underneath … you'll see … as soon as the whore has greeted you as it should.
I did not know where to put myself. The whole class would be aware at this rate. I could never continue to teach them. Not in these conditions.
– I filmed it, and I took lots of pictures, you want to see them?
-Yes…. with pleasure. I am curious to see this ……. This little whore.
These words, in Chloe's mouth, shocked me deeply. The humiliation grew in intensity. A little whore, obedient, submissive, was what I was in their hands. I had no choice but to obey, except to see my life explode.
Mistress and her Humiliation Games
The viewing lasted a time that seemed endless. Seated in the sofa, I kneeling facing them, looking down, thighs open, tail caged and exposed, Mistress Caroline and Chloe reviewed what I had undergone. Chloe, usually so reserved, showed herself more and more excited, and less and less avaricious in comments.
"It's really a bitch." You had trouble fucking him …. It looks like he really likes it … .. Nan !!! But look …. What a whore !!!
-Hmmmmm it's clever, I'm soaked now, all these photos and videos, it made me wet like a crazy. Thank you Caroline, it was very …. Instructive!
– I beg you … you know, if you are soaked, you have a good lapse at your disposal …. She only expects this, is not it bitch?
-Yes Mistress Caroline. At your service !
-You see…. You have only to order. She's all yours Chloe.
"Get the whore!"
Come and taste the honey of your Mistress black! Talk to me! I like to feel a tongue sink into my pussy, show me what you know how to make dirty bitch!
I approached like a robot, on all fours, almost by automatism.
"Dirty bitch" …. Was I already conditioned? Chloe pulled off her thong and put it in front of my face.
-Lick, and breathe! It had a musky, heady, deliciously exciting smell. I licked the soaked cloth, and tasted its honey.
"Now you are going to drink directly at the spring, and I will feel your tongue. Lick me well!
I buried my face between her thighs, and I licked it long. She drank abundantly and she ended up enjoying by calling me a bitch, a whore in heat, a licking, a submissive bitch.
Can I have Him Again, Mistress Caroline?
-Hmmmm! It is that she made me enjoy your bitch Caroline. Will you lend it to me again?
"Worry, you can try other things with her." You ever fucked a guy?
"Never." You'll see, you'll love it !!!
Upon these promises of pleasure, my two Mistresses rose from the sofa.
-Well the bitch, get dressed, it's time to go in class! Then we'll come back, I have not finished with you my dog. Ready Mister Professor submitted?
Caroline and Chloe, my other student dominated, burst out laughing. The course was going to be long, very long.
Related posts: