The Professor Who Submitted to His Dominating Mistress Student's – Part 11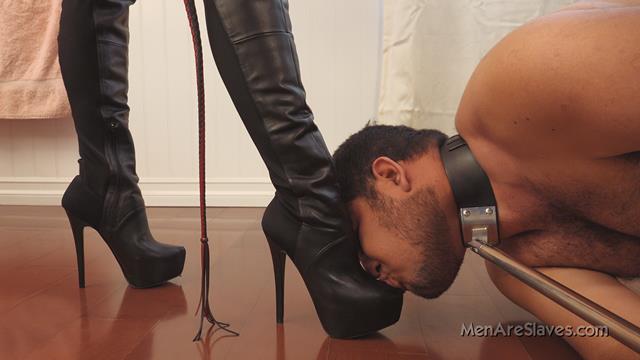 "You have 5 minutes to be naked in front of me, my dirty whore door. Just keep your stockings. "
These words resounded in my head from my Mistress.
Sounding. Ascend. To undress me. Hit. Expect. I'm naked, or almost. I wear only my stockings and my cage. I am annihilated. Incapable of rational thinking. Anyone can climb the stairs, like a neighbor. Mistress Caroline knows it. What will I do if someone arrives?
Nowhere to hide. Re-dress? Not even worth thinking about. I'm just there, on the landing of my Mistress. Terrorized, subdued humiliated, on the verge of tears. In these few minutes, the balance sheet stands. What I found, what I lost or will lose.
The pleasure, the concretization of my most unallowable fantasies, Ennia and love, Mistress Caroline and the unfathomable desire she inspires me.
Mistresses Unfathomable Desire
Opposite, my couple who were no longer one, my dignity – but could I not find her, or rather find another one in the servitude of Mistress? And in the end, is my dignity still important? For who ?
– I am shattered and relieved. I think I will never be able to explain this ambivalent feeling. The more I sink, the more I reborn. The more I lose myself, the more I find myself. The less I exist, the more I live. Stepping strides. I knock again. I hear a noise behind the door. A rustle. Mistress Caroline watches me.
She must read my distress on my face. Enough to feel some pity. The steps go up and up again. A level of difference. Mistress opens and brings me a masterful slap that ends me. I fall at his feet and explode in tears.
-Mistress…. pity…. Caroline … I beseech you!
The Howls of the Whip
But fury can not be appeased by the subdued humiliated that I am at this moment.
Caroline slams the door, and howls with a whip:
The blows rain, I'm curled up on the ground. I protect myself as much as I can and I borrow, shouting at every shot. At first striking at random, his whip becomes more precise, my ass, my back, my thighs. Mistress Caroline turns around me without ceasing to insult me. I scream when the leather meets my balls. Chloe, who watched the scene from the beginning, without flinching, holds Caroline's arm.
-Dis, you go there a little strong?
How about a little movie…
– This bitch, this sow has only what she deserves !!!! Never, NEVER has a whore humiliated me like that … Mister wants to play the little teacher ??? Really, dirty shit ??? But whore .. you're gonna die, trust me. I'm going to make you want to make a remark, in front of the whole class. Here, I have an idea, I will invite them all for a small private screening. A little trash movie, with a sow who gets fucked … you think they like it ???
-Pity Sublime Mistress Caroline, pity, not that! I will not do it any more, I will do whatever you want Mistress, but not that I beg you!
I threw myself at her feet and kissed them, embraced them as if my life depended on them. Mistress Caroline can do anything. I am only her submissive, her whore, her bitch or whatever she wants.
Make Her Happy; Humiliate Yourself!
I have no choice but to humiliate myself, to belittle myself, as low as she desires. Go far, as far as it will require. To obey, to submit, to remain silent, to offer myself, to accept, to progress, to give me. That is my only prospect. At the feet of Mistress Caroline, I give up my arms, I submit humiliated. I weep beseeching, but Caroline does not care. Without Chloe's intervention, I think she would have hurt me so much because her fury is intense.
-The whore was standing in the middle of the living room, hands behind the back, thighs spread …. RIGHT NOW !!!
I execute myself, without flinching. I take the orderly pause, and I am quickly joined by Mistress Caroline. She handed me a pair of handcuffs and immobilized my arms behind my back. Then she places two bracelets on my ankles and fixed the distance bar.
Handcuffed and in a Spreader Bar
"Now, I'm going to be able to quietly correct my under-shit." You're gonna take it dirty whore …. Here Chloe, here is the key to his cage. Release it and …. I would like you to have him bandaged if you please? Note, this bitch is so hot, in my opinion, you will not have much to do …. Well, what did I tell you? It already stripes like a donkey …
Indeed, hardly Chloe has released me that I start to bend. Very difficult. Mistress Caroline approaches and grabs my balls. She presses them and I cried out in tears ….
-YOU DIRTY WHORE!!!! YOUR SAMPLES ARE TO ME AND I DO WHAT I WANT WITH THEM. UNDERSTOOD?
-Yes Mistress, I am yours.
– Now in position, on the coffee table … and you have better offer your ass !!!
Head Down, Ass UP
I kneel down like a good humble submissive and then put my chest on the table. My thighs are kept open by the bar and I camber as best I can.
-This Chloe, take this and warm his ass while I go to look for some toys ….
Mistress Chloe takes the martinet and brings me a few blows, rather light. Caroline retraces her steps … and snatches it from her hands.
– Did you forgot what this filthy whore did us ??? He fired us from the class I remind you … He has to pay. So go ahead, do the warm up. I want to hear the slapping of the thongs on his bitch ass in heat … Go ahead, do not hold back, he loves it I'm sure.
Chloe strikes with more strength, I try to contain my groans, but I have more and more trouble. She takes a taste for it and knocks harder and harder.
The Whip Cracks Down
When thongs touch my balls, I can not hold back a cry of pain. Far from calming Chloe, this cry galvanizes her … and she takes the game of the Dominatrix.
-Scream bitch … you like it huh ???? Hmmm if you knew how it makes me wet to get up, I run like a madman … just now you will clean my little loop. My dirty whore … Here, take that …
She strikes again and again … I do not feel my ass anymore, I groan continuously when Mistress Caroline returns in the living room.
-Hmmm you have warmed it up. Bravo … this sow has only what it deserves. We will still play well with, and well punish him to pass the desire to start again …. Here, the slut does not strip anymore ….
The blows made me disbanded. Mistress Caroline who put on leather gloves grabs my cock and begins to shake me roughly.
Leather Gloves with a Death Grip
"Get my whore, band for your Mistresses, it's an order." Chloe, I think he needs to be doped. And I know nothing better for the whores of his kind than the wetness of his Mistress. I heard you say you were soaked, you do not want to get deeply cleaned?
-Hmmm so, with pleasure. Go dirty bitch, you're going to stick your tongue, and clean my pussy. Lick me whore, lick your Mistress …
Chloe knelt down on the table and grabbed my hair to stuff my face between her thighs. It literally runs down, and soaks my face. I lick, search, aspire, wood its wet …. Mistress Caroline was right, the perfume and the taste of Chloé make me bend immediately.
Dripping Wet Mistress
Mistress Caroline is behind me and starts to tie my balls and my tail with a thin cord. Very tight. I'm getting hard, I think I've never been bandaged to that point. She takes advantage of it to shakes me without any hesitation, while with her other hand she presses and twists my balls. I moaned in pain, stifled groans between Chloe's thighs that quickly approaches the orgasm.
-Dirty whore, make your mistress enjoy, you can lick better than that … You're just good to lick, and to fuck your ass dirty sow. I make you a cum bag … you're gonna swallow miles of hard and juicy tails believe me. I'm gonna drug you with the tail and cum. I'm going to make you fuck blacks while you shake by looking …. Hmmmm go enjoy my friend Chloé !!!
Chloé's explosion
Chloe explodes with pleasure by inundating my face. I drink and I regale myself, despite the pain that Mistress Caroline inflicts me by playing hard with my swollen balls to explode. I heard everything she said to me … but in a second state, focused on Chloe's pleasure. I know she is capable of making me undergo all this. I also know that in the depths of me, in the darkest meanders of my perversity, I desire it. I want to be all this for Mistress Caroline. I want to be her humble submissive. And she knows it.
Related posts: