Mistress Caroline and her Submitted Whore Ennia -Part 8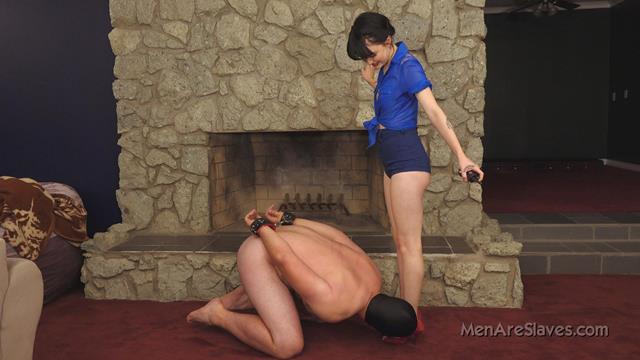 Mistress Caroline, a cruel ruler, left us long minutes alone. By kisses, tender caresses, whore Ennia soothed my tears and the warmth of her body against mine eventually made me rebel. When Caroline came back, Ennia was caressing slowly on my stem, without ceasing to kiss me. She cried when the whip fell on her back.
– But look at these animals in rut. I can not leave you 3 minutes!!! You only think to kiss! You deserve that I put you to slaughter, in a hut of construction site, to make you fuck a bunch of guys with full balls. You are only two whores in heat! You bitch, you go back to your hotel. And you're waiting for my message tomorrow morning. But for you to think of me, I'll equip you. On your knees, now!
Cruel Mistress Caroline
I was defeated. Mistress Caroline, a cruel dominatrix, had definitely taken the ascendancy and I had no desire to rebel. She grabbed my balls with both hands and twisted them, which snatched a cry of pain from me.
-Silence dirty whore … I forbid you to shake until tomorrow. But I have no confidence, so there is only one way to ensure your obedience. I'm obliged to hire you!
-Mistress Caroline, please, do not!
The slap was as instantaneous as her fingers grinding my balls.
-You dirty whore. You're just a bitch in heat, a train that thinks only in the ass. Your cock belongs to me now. Is that clear to you? Is it clear my whore ???
Yes Mistress Caroline!
I had spoken in a whisper, eyes fogged with tears under the pain of her hand squeezing my balls. I did not want to bend at all, and Caroline had no problem putting me in the chastity cage. The click of the padlock condemned me. And I was overcome with fear. Tomorrow I had to go home. What if my Mistress did not release me ????
-A good whore should always wear undergarments. Put on that my bitch!
A pair of dim-up and a red string, too small, which almost hid nothing from my cage. I felt ridiculous and Mistress Caroline added:
"Looks like a poor traveler." You're too vulgar my whore … Vulgar like a real good fuck on the sidewalk. One day I'll make you tap!
His last reply ended.
Leave!
-Go, get out of my sight now! You my whore Ennia, you prepare the file. Tonight you will be the queen … I have prepared a little surprise for you, I hope you have not forgotten! You will take it dear believe me!
The trip to my hotel was terrible. The ass open by the plug, my legs with stockings, my tail trapped, my thong red … I felt that all the passers-by whom I met, all these people in the train metro only saw that. They knew. I guessed by their little contemptuous smiles. Of course, it was impossible, but I felt naked, full ass and cage between my thighs, it was nothing natural, at least it seemed to me.
Public Humiliation
The evening was terrible. Between a phone call to my family, my efforts to appear natural, the film of the afternoon looping in my mind, my desire to have sex exacerbated by the plug and my cage depriving me of erection … I found it hard to find Sleep, in spite of my exhausted body by its trials.
Knocking at my door pulled me from my agitated dreams. I no longer knew where or who I was. 5:34. The hour of total surprise letting Ennia enter my room. Her face marked by tears, ravaged makeup, scent of ass …. And glacial gaze. Not a word, just an envelope she handed me. A letter from Mistress Caroline.
Mistress Caroline's Letter
-My whore …. Ennia is mine. She's my dog, my thing. But she is also your Mistress in my absence. You are inferior to her, and you owe her obedience. I hope for you that she found you with your plug in the ass, and your thong always on you … or you will be punished harshly.
That night, the redhead slut was offered to an assembly of males. She got fucked in the ass and pussy. She screamed in pain for a long time. And I noticed that she didn't enjoy. Less than an hour, tails were still empty in her holes and on her body. She smelt like, cum. You're going to clean it up, deep down. And she has the right to enjoy this time.
Ennia's glance did not suffer any refusal.
-Hands on my head …. Now you are my whore to me. And I want to hurt you!
Her Whore
She had taken my belt, from the back of the chair … and she slapped my ass. Strong enough to snatch a moan from me.
-You have the right to scream … I like it, it excites me … But not too much, don't forget where we are.
The blows fell on my ass. Ennia circled around me, knocking my ass, sometimes my chest or my thighs. I resisted, as best I could, the pain, groaning as little as possible. I was exhausted. Too many emotions, sensations, too little sleep. But I was thinking about what Ennia had endured. Worse than me if I believed Caroline's words ….
The blows ceased.
– Lying on the ground like a bitch, you are going to clean me! I'm filled with hot cum … you're gonna lick me.
The Perfect Seat
She sat down on my face. A sticky, odorous facesitting. She sat down, the sperm sliding … running from her pussy and ass … and her thighs were smeared with long trains of male enjoyment. I had to overcome my disgust, stick my tongue, lick, swallow, clean …. She rubbed on my mouth, and opened her buttocks…
-hmmm thrust your tongue my whore, suck… suck the sperm … hmmm you like that eh … lick your Mistress, clean there well … hmmmm yesss… continue my bitch … you will make me enjoy …. Ahhhhhhhhhh!
Ennia enjoyed several times. She loosened, called me her love, her whore, her bitch of pleasure … jerked on my mouth, directed my tongue … my beautiful redhead dominated me and my love for her exploded.
Red Headed Love
No matter how degrading, the sperm that defiled her, it does not matter that she gets fucked by others … At that moment, I was her's, just hers. It was I who made her enjoy. My disgust was far away, my taboos fell one after the other.
I wanted everything, no limits … just to be with her. My tail spread a continuous pain, enclosed in its cage. The frustration that this engendered was new to me. And I cried by squeezing Ennia in my arms, kissing her mouth, licking her breasts covered with whitish trails. She left me without a word at 7:15. And I collapsed on the floor of my room, Still weeping over my fate, about what I was about to become, annihilated by doubts and questions. And above all, the lack of Ennia, the pain of his absence. The wait was going to be unbearable. Meanwhile, I was shattered.
Related posts: