Mistress Caroline: The Professor Who Submitted to His Dominating Student – Part 2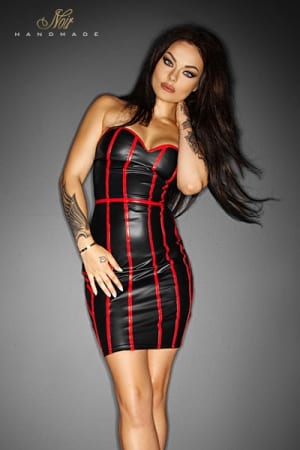 Chapter 2
On this leather sofa, Caroline's hand, my dominating student, on my thigh, Ennia in front of me, I was simply tetanized. I could not detach my gaze from the sexual creature that was showing itself in front of me. I could not ignore the hand of the most exciting of my students going back to my tail already tense. My reflection was anesthetized by the massive influx of hormones, fantasies, interdictions between a teacher and his pupils … Caroline's mouth had come closer to my ear and it was her voice that brought me back among them:
– I see you watching her, since the beginning of the year. I know that it excites you, and you must surely masturbate by imagining it. This little dog is my submissive, for 6 months. She's mine. I give it to you. At one condition.
Now or Never
I had found a semblance of reflection and I knew that if I still had a chance to leave, it was now. If I did not want to endanger my professor's career, and probably my couple and my family, I had to get up and leave. Now.
-Which ? I heard him answer. I offer it to you if you offer yourself to me. It excites you but me, it is you that excites me. I want you. You will become my male bitch, my submissive, my sexual object. I'm a Dominatrix, and I want you. I only think of that since I saw you. I want to dress you up and I'll train you.
His hand was lifted to land on my tail, accentuating if it still needed my erection. Caroline steadied her grip, pressing harder through my suit pants. This divine manipulator was masturbating me, very slowly, while my eyes did not leave Ennia eyes.
Honor Me Little Whore
– My bitch, excite a little … show him what you have to offer him …. Do me honor my little whore, go!
Ennia obeyed without bothering. She had slid her skirt at her feet, appearing in dim-up, naked sex, with her little transparent top that did not hide anything from her breasts. She began to wave as she approached. A dance that fascinated me and made me bend harder under the fingers of Caroline.
-Get my whore …. Caress yourself for your teacher. Show him that you are a real bitch in heat.
Ennia slid her hands over her body. Pinching and stretching her spikes through the veil, stroking her lips, thighs apart, turning to take her globes with her hands, spread them away and offer me a direct view on her furrow, her purple eye and her pussy that I guessed soaked . Caroline had extracted my tail from my pants and I felt her fingers warm tighten, louder and louder, which made me moan. I liked it. She must have guessed it, I saw no other explanation.
Yes, Mistress
She had to know that I would not protest, that I would stay, that I would submit because I dreamed of it. Ennia would be the gift that would seal the pact, my pact with a devil. Yes, she had certainly felt it, and I did not know what super power she had. I was a man, And with my cock bandaged between her fingers, she was directing me. I perceived all my miserable condition of male dominated by her urges, by her desire for sex, by her tail. A poor male who thought only of that, the ass, the asses. A male who only thought of kissing. She was going to become my drug and my dealeuse. She was already so, and she knew it.
Come here NOW
I stared at Ennia's fingers that shook her pussy and I barely heard the voice of Caroline ordering her to approach and carry them to my mouth.
– Taste her pussy, lick her honey. You see how she's already soaked. You're gonna kiss her, not all the holes. You're gonna fuck her, fuck her pussy, you're gonna eat it, suck it, and you're going to stick your cock in her mouth … you'll see how she sucks well, a real pro. You're going to be crazy. After that you will be mine, and your dressing will begin. Your male tail in rut will be mine, and she will only enjoy when I give you permission. Ennia continues to wank you, do not stop, he loves it. We'll love it when he has to masturbate for us. Ennia is my bitch, but she's a woman.
My Male Bitch
When you will be my thing, my male bitch, she will also become your Mistress. Though submissive, it is superior to all males, all those dogs that think only with their tail, like you.
His voice had become hard. She tightened her fingers harder on my tail and I began to suffer seriously. I would learn later that this pain was nothing, and that I would know much worse. But for now, I was hurting, but I liked it and she knew it.
Caroline made me get up by pulling myself by the tail.
– Take off your clothes…. And kiss this whore, kiss it as much as you want, it is yours, as long as I order it.
Sexual madness
I did not think anymore. Automatic pilot. Desire to kiss. Pussy, ass, breasts, taste on my tongue, the smell of her liqueur, her tongue in my mouth, mine in her pussy, between her buttocks on her ring, my cock in her mouth, her ass, her fingers In mine, her breasts under my hands, her mouth welded to mine as I sink into her belly. I am a machine, a tail, nothing more than a tail that fucks, sinks, spring sinks again and elsewhere. Frenzy, sexual madness. Ennia seems to me too. We are only cries, groans, raw words, skins shining with sweat, arms and legs tangled, tongues out, insatiable.
I hardly noticed Caroline turning around us, her phone in her hand. I do not care, I do not care about anything but Ennia's pussy that crashes on my mouth. I eat it again and again and she sucks me over and over again.
Final thoughts
We enjoy again in this last 69 which leaves us dead, filled with sex and pleasure. We take our breath slowly, Caroline still grappling us with her goal. I look at her, conscious of what has just happened, but as detached, fatalistic. I lost, she won, I was only a weak male, dominated by his tail, as I have always been. I could still get up, snatch his phone and leave. I may have the strength, but the will. His images will be of no use to him. She will not need it to make me sing. I want to be her, I want to be trained, become her whore, her bitch. She confronted me with my deep desire, my absolute fantasy. I know at this moment that I will never have a Mistress, And that it will be Caroline. Mistress Caroline, my dominating student.
Related posts: