First Time Slave Experience Part 1
Arriving at her place
Feeling the nerves buildup inside of me, I walk up to the door of my new mistress. I have never served a woman before and begin to feel the arousal and fear that comes all in one. As I contemplate ringing the doorbell, she speaks through a speaker, "Come in slave, I've been expecting you. Don't be shy."
I then hear the click of a door unlocking and opened the door to allow myself in. Again I hear her over a speaker system. She says, "Strip yourself and put on your uniform located by the table. I will be down when you are finished." My excitement overflows and I strip myself down as fast as I have ever done.
Assuming the outfit
When I then look into the box, to my shock I see the uniform my mistress has laid out. The uniform consists of a collar, cuffs for various body parts, and a chastity device. Not wanting to disappoint my mistress, I hurry up and put on the collar and the body cuffs. I then proceed to force on the chastity device after lowering my arousal so that I can fit it on.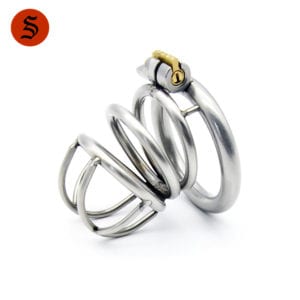 Upon completion, my heart begins to race as I hear the clicking on high heels coming down the hall. I turn towards the hallway and see my mistress standing before me. She points to the ground and says, "Kneel slave and greet your mistress." I drop to my knees as fast as I can and kiss each of her feet and remain facing the floor knowing I am not worthy to face my mistress. The next thing I hear is her voice telling me, "Eyes up slave and look upon me Mistress Mary."
I move my head up and look upon her from my lowly slave position. She then pushes my head back down and proceeds to lock my wrist cuffs to my bicep cuffs and my ankle cuffs to my thigh cuffs. "There now you will be fully restrained as my good little slave."
Learning my place
She then grabs my leash and leads me down the hallway. The pain from walking on my elbows and knees against the hard floor is nothing compared to the excitement for finally being able to serve Mistress Mary. As we walk she says, "Now that you are my slave and properly dressed, I am going to give you time to think about what this means."
I question what this means but don't want to speak out of line so I continue to follow. We then arrive to the living room and I see a large box covered by a blanket which Mistress Mary removes to show a cage just large enough to fit a human.
I look up with mild fear on my face as I realize she is going to lock me in the cage for now. She laughs at seeing this and says, "Slave you must learn how you are nothing to me and to do this I will lock you up for now."
I watch as she opens the cage and I sadly crawl my way in. She then shuts the cage and attaches my leash to a lock on the cage to further entrap me. "When you are good and ready knowing your place beneath me, I will then allow you to serve until then enjoy your time." She then throws the cover back over the box and walks away with her clicking of her heels as I remain locked in my cage with only my thoughts.