The Professor Who Submitted to His Dominating Student Mistress Caroline (19)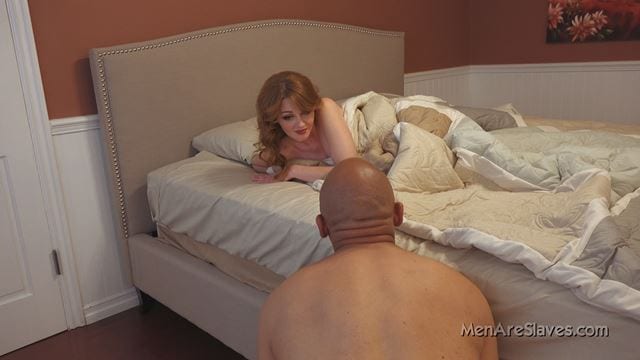 The daily life of the subjected slave
As I expected, Mistress Caroline, my dominating student, enjoyed several times using my language. I deeply love honoring her, it is a real reward for me and Mistress knows it. Sometimes, between two courts, she returns to her apartment to get a quick cunnilingus by her submissive slave, then she leaves, soothed, leaving me in a state of indescribable excitement, face smeared her wet that intoxicates me . I believe that the liquor of my Mistress has me on the effect of a hard drug. When she refuses me her delicate vagina, to offer it to Ennia for example, or to caress me by ordering me to look, it is an intense humiliation and a terrible frustration for me.
Mistress requires that I enjoy her with my tongue every morning. I am the first one up, that goes without saying. I prepare her breakfast, and at the appropriate hour, I slip my mouth between the thighs of Mistress. Most often, Mistress enjoys quickly, her hands grabbing my hair to better press me against her. She then drinks me for her enjoyment, strong and abundant. On weekends, Mistress Caroline enjoys taking her time. I must honor her for a long time, and use my tongue both on her clitoris and her purple carnation. She also likes that I linger in her furrow as she masturbates. I must admit that seeing Mistress Caroline enjoying, hearing Mistress Caroline enjoying, feeling her pleasure, her body stretching, her gasps, all this is enough to live.
It is a beauty that makes me happy. And I know it is an honor to be able to witness this. To be allowed is a mark of confidence that Mistress Caroline gives me.
Bad news for the submitted slave
After her successive orgasms, Mistress orders me to serve her an alcoholic drink, then kneel at her feet, look down, thighs open and hands behind my back. Then she plays with the tips of the toes on my cage, which has the effect of exciting me painfully. I still have not cashed the frustration of my abortive pleasure in Ennia's mouth, and I groan, with tears in my eyes.
"My bitch, I think you understand, do you not?" Ennia will leave us. I yield it to a Master of my friends. We met three months ago at a SM party, and it flashed on my redheaded whore. He receives it regularly, to test it. Normally, she will come into full service next week. I hope your not too disappointed?
I am speechless, I cry silently. Wounded. I can not believe what Mistress Caroline tells me. And her smile crucifies me.
"You belong to me, my slave, my submissive slave. Ennia too, finally for a few more days. And I make of you what I want. Maybe I'll sell you too. Had a dominant gay couple, you would like. Become a good lope, a good fucking whore … Respond to me when I ask you a question? !!!"
Application of the slave submissive
Mistress Caroline slaps me dryly. I still cry but I dare to lift my eyes and plant them in the gaze of Mistress Caroline.
-Divine Mistress, I beseech you to keep me with you. You are my reason for living, my goddess, my sublime Goddess. In life, I have but one goal: to worship you. So, I beg you to take me even further on the paths of your fantasies, of your desires Mistress Caroline. I am faithful to you, your whore, your bitch, your submissive slave. Do with me what you will, Mistress, but I beseech you, do not abandon me. I left everything for you, I chose this life for you Mistress Caroline. However, I do not regret it for a single moment. I am happy with you. I love you Mistress Caroline, intensely.
Mistress looks at me for a long time, without a word. Then she holds out her hand, which I hasten to kiss with my lips as a sign of allegiance.
"In the meantime, submissive slave, prepare my bath, and then you put yourself in the kitchen. I'm hungry !"
After the meal, Mistress Caroline was no longer interested in me. I finished cleaning the kitchen, then the bathroom and I took the pose, at the feet of Mistress, waiting for her to speak to me. We had a ritual. If I wished to question Mistress, I had to place myself, and wait for her good will. My waiting time was sometimes short, sometimes very long, and sometimes even Mistress left without being interested in me. This time, Mistress waited nearly 10 minutes, time to smoke 2 cigarettes while reading a magazine.
"Yes my whore?"
"Divine Mistress, can I join Ennia? I .. I would like …  would like to see her, I need to see her, I implore you Divine Mistress Caroline."
My Mistress accepts my request!
Mistress took all her time to answer me.
"Go. I am in a day of great goodness, and seeing that she will soon leave us, I grant you a last night with her. Take her off, take care of her as you like, and you can even spend the night with her. As long as tomorrow morning, the service is performed as it should be. I will not tolerate any breach, you know my bitch. Tonight I'm gone. Come on … get out of my sight, and join your redhead whore."
I threw myself at the feet of Mistress, thanking her by kissing them …
"But leave now! Quick before I change my mind !!!"
I did not ask for more, and I rejoined Ennia. My love had awakened, tied up, bruised by the correction inflicted by Mistress Caroline. Gently I detached her and led her to the bathroom, supporting her as best I could. I made her take a bath, and brought her back to the room. We had not exchanged a word. Just look. I undertook to massage it gently with a soothing cream, insisting on the marks of riding whips that were zebra. Mistress really had a heavy hand.
One last night with Ennia
Ennia abandoned herself to my expert hands and plunged into a half-sleep, offering me her anatomy with a sigh.
"Give me … make me enjoy with your fingers, but very slowly. Then I want you to lick me please … I want your tongue."
Ennia was a submissive, but she was a woman. And thus superior to the submissive male I was. I had to obey her, even though no order was necessary for me to put myself at the service of the pleasure of her whom I loved to madness. I loved Mistress Caroline intensely, but with Ennia, my love was deeper, something absolute that exploded when I looked at her, when our skins joined, our tongues mingled, our sighs of pleasure in unison, or Just when I thought about it. Her mere presence made me happy, and the pleasure she demanded of me was a gift of life, the most beautiful in my eyes.
I made her enjoy at length, slowly, and with infinite tenderness. None of us had noticed the presence of Mistress Caroline, leaning against the door of the room. She looked at us with a rare intensity, playing with a key between her fingers, the key, that of my cage.
"Approach!"
Released from the Chastity Cage
Not another word. Mistress Caroline released me, not without difficulty because to enjoy Ennia of course excited me like crazy. I knelt down, and as I gazed at my Mistress, I took her hand between mine to kiss her respectfully. No need for mercy, Mistress Caroline could read in my eyes all my gratitude and how deeply her gesture touched me. I went back to Ennia, sitting on her knees on the bed. She also looked at me with rare intensity. She invited me to take the same position, facing her.
"Be good for me. I want to watch you masturbate, and especially enjoy. I want to keep this picture of you. I love you. And I do not know if I'll see you again."
I opened my mouth to answer, tears in my eyes, but Ennia put a finger on my lips.
"I'm begging of you, do not say anything. I love you, I love Mistress Caroline, but I am a submissive and I will have a new Master. I have a new Master, I am leaving in 2 days. I'm going to stop school, say nothing about it too, please. It's my choice. Now caress yourself …. Give me your pleasure I beg you, I need it …"
Tender moments with Ennia
On my knees, thighs open, I obey. Ennia came beside me, and as she watched my hand come and go, she whispered in my ear, encouraged me, demanded her due, moaned with pleasure, feeling mine rise …
"Yes, yes …. Let me go, give me your cum my love, jerk off for me … come, come now …."
I screamed, ejaculating, the hand of Ennia coming to caress my testicles. She picked up my seed in the palm of her hand and then carried it to her mouth before knocking me down on the bed and kissing me passionately. We embraced each other for a long time, and, body to body, desire finally reborn. We made love as when Mistress offered me Ennia, that sublime first time that sealed my fate as a submissive. An ultimate embrace, lost in each other, weeping, laughing, enjoying, happy and in love. It did not matter tomorrow, it did not matter.
Related posts: