The Professor Who Submitted to His Dominating Student – Part 12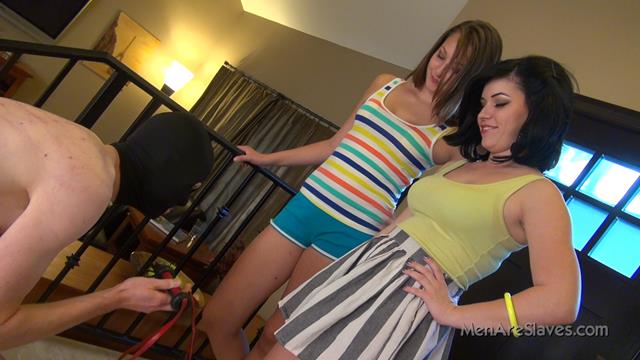 Mistress Caroline grabs me by the hair and pulls me back to straighten me up. I am no more than a submissive punished in his hands. I have the face bathed by the pleasure of Mistress Chloé who enjoyed abundantly. I band like a madman, on his knees, the tail at the level of the coffee table. The pumps of Mistress Caroline comes to rest on my stem, pressing painfully.
"Then my whore … you see, your Mistress's liquor makes you get a good bend … We're gonna condition you my bitch. You're going to get addicted to the smell of our pussies you'll see dirty little whore … hmmmm I love to feel your cock under my soles … you like it when I press, like that?
The pain tears out a cry, immediately followed by a whip blow on my buttocks.
Tears of Pain
-Your dirty mouth whore … you suffer in silence. Chloe, would you take the paddle on the table behind you? The black, wide … I think punishment can really begin.
Mistress Chloe comes to stand behind me, I'm always on my knees, riveted to the table by Mistress Caroline's sole that crushes my tail. The pain, far from making me disband, excites me even more. I've never been that hard. Mistress Caroline takes a candle on the table and turns it on.
"My bitch, you must be punished to understand what you have done." And especially so that you do not start again. I am, we are your Mistresses. You owe us respect and obedience, whatever the circumstances. On-going and off-course. Unfortunately for you, bitches like you only understand the pain … So you're going to make you suffer. It is for your dressage my whore. And also because it makes us wet. Is not that Chloe?
Punishment
– Hmmm this dirty whore has just made me enjoy and I am still soaked. You're right … it excites me to death to train him. I just love it !!! Thank you Caro!
-You're gonna see, you'll still love the rest of it …. My dirty fucking rebel, for every blow that Chloe will give you, I will pour a little wax on your penis. You see, my sole leans on your stem … only your glans outgrows, well offered. It's perfect ! To you Chloe, and do not forget that it is a punishment …. He must suffer.
Chloe brings me a first shot. More sonorous than painful, I let out a little groan, then a cry when Mistress Caroline sends a drop of wax on my penis.
-More Chloe …. Make his ass blush!!! Go on … after that we'll kiss him on the god-belt. We will take the bigger, to properly fuck this little bitch in heat.
A Submissives Punishment Continues
The blows rain. Stronger and stronger. Chloe takes her foot to blush my ass, Mistress Caroline to cover my penis with a shell of wax. I moaned continuously … After a dozen shots, Mistress Caroline removes her thong, soaked, and stuff it in my mouth.
"Hold my whore … you disturb us." Go on Chloe, continue …. It still deserves a dozen. Stronger, I want it to slap!!!
Mistress Chloe does not pray. I scream under the following blows, while my penis is completely covered with wax. I lose the thread of the blows that fall on my ass. I am in pain…. Mistress Caroline withdraws her foot and grabs me by the hair to straighten me up.
Mistress Caroline is Pleased
-Hmmmm it is very red at will …. Go and get the bitch, settle on this chair … .. Wait, before, you have to get rid of all this wax … Chloe, pass behind her and hold her arms. Strong, she risks ripping our little bitch, our little punished sub.
Chloe comes to catch me and keep me. Rules … with the bar that holds my ankles apart, I do not risk to kick a lot! My cock is always hard, I do not understand. The pain should make me disband, though …. The fingers of Mistress Caroline come to me. With her other hand she grabs a whip …
-Get my whore, clench your teeth!
No sooner has she finished her sentence with a whip blow on my cock! I scream and try to escape the bite of the leather. But with Chloe holding my arms, and Mistress Caroline tightening my tail, I can not do anything. One, two, Three…. Mistress Caroline aims well, and the wax detaches, piece by piece, from my penis. I cry with every hit, I'm in tears …
-Need more wax, you got my bitch bad? Asks Mistress Caroline, in a voice falsely desolate … I groan, the pain is still unbearable. Mistress Caroline catches me by the hair and installs me on the club chair, my torso resting on the back, my ass well offered. Then she removes the string from my mouth.
– I'm sure you want to get fucked by your Mistresses. You're just a bitch who loves getting her pussy fucked, is she not? "
Missing my love
I do not answer, at least not quickly enough to Mistress Caroline's taste. I'm in a daze, lost. Where is Ennia? Where is my love? I found it strange sir sooner, cold, distant …. I do not understand. I wish she were there, I would like to be able to plunge my eyes in her, to find the strength to undergo my punishment. But I'm alone. Is this the condition of submission, of slavery? Loneliness in the face of pain, humiliation, servitude? Perhaps I have not yet crossed the course, not yet understood, learned my condition?
For now, only the concretization of my darkest fantasies brings me pleasure … will I get to experience even greater pleasure in serving my Mistress? I am scared. Afraid not to get there. And to be forced to submission by the blackmail exercised by Mistress Caroline.
A Submissive Punished by His Mistress
I am terrified at this idea. But I have little time to think about it. I am no more than a submissive punished by her Mistresses.
Mistress Caroline and Chloé were equipped with god-belts. Mistress Caroline took the biggest. Black, veined … It seems to be enormous. I will never be able to endure such a caliber. She's going to tear my anus for sure. Mistress Caroline passes behind me and undertakes to lubricate me copiously.
– You see my bitch, I'm already less angry …. I am preparing you. I'd have to bugger you up in a dirty whore! You deserve it ! Come Chloe, you're gonna start, since I've got a smaller one than me !!! My two Mistresses burst out laughing … "You're going to sodomize your first guy. You'll see, you'll love it! To kiss a little lope, that's the most enjoyable believe me!
Chloe's First Time Soomizing
Mistress Chloe comes behind me. I feel her cock slid in my ass. Mistress Caroline the guide.
-You see, you take it in hand, and you put it well on his ass. Then you grow, gently but without stopping. It's the bitch who must open. Go ahead, force a little more, you'll see he'll take it. Hmmm good, you're back. Now you make little back and forth … look, it opens well there, fuck it a little more … go deep, fuck this bitch!
I feel the hands of Mistress Chloe on my hips. I try to open myself to the best, not to suffer too much. I groan as loudly as possible. I feel like my ass tears. But I want to. I want my black Mistress to fuck me, fuck me like a good slut. I want to feel it in me. Mistress Caroline comes to present her dildo to my mouth.
Suck my Cock!
"Go on with the bitch, suck my cock." It's the model above, you'll see, I'm going to dilate you with that … go the lope, lick my glans … imagine it's a real one. I'm sure you're dying to suck a real cock, right my whore?
"Yes Mistress Caroline, you are right, I want it …".
I do not say that to please her. I'm dying of envy. I have this fantasy for a long, long time. Being forced to suck a cock, being the slave of a hard cock. Mistress Chloe releases herself and calls me names more humiliating than the others, she withdraws – leaving me with the impression of having the anus totally gaping – then sink again, with less and less delicacy. She fucks me, unceremoniously.
Another New Mistress
She tells me that I am her female, her bitch, her sow … that she is going to bugger me with monstrous gods, that she is going to make me tap out, to introduce me to her black friends who have tails like Elephants, that she loves to fuck me, that it makes me enjoy getting fucked.She gives me a big slaps on the ass to rhythm my sodomy …
"I see you love it," said Mistress Caroline. I told you, it was enjoying to fuck a whore. Come on … my turn now. It's time to really screw her ass to this bitch.
Related posts: