The Professor Who Submitted to His Dominating Student Mistress Caroline (17)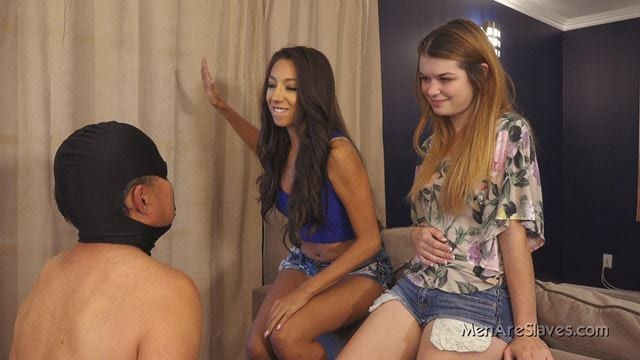 Mistress Caroline is waiting for us on the doorstep of the apartment for this BDSM party.
-Deposits the bags in the kitchen, you'll put away later, then you join us in the living room!
I execute and join Mistress Caroline in the salon. I make a pause. The coffee table was removed, leaving a nice clear space in the middle of the room. The two deliverymen are each sitting in an armchair, Mistress on the sofa. And beside her, Mistress Chloe. Ennia is kneeling at the feet of Mistress Caroline, naked, wearing only her dog collar, held on a leash by my Mistress. The presence Chloe and Ennia freezes me. I guess what will happen to me, finally what I will have to do, I accept … but I thought that Mistress Caroline would be alone.
"Then my little bonniche, you hesitate?" Come here, immediately!
I approached, looked down, I obey, that's all. I died of shame, I'm afraid, but I'm excited. The cage fills its galley perfectly and contains an erection more than painful. I'm a whore, a bitch in heat … I became that. Or perhaps I had always been, without knowing it.
-So…. She cooperative my bonniche?
Presentation of the Submissive Slave
The little delivery man speaks:
"She could have done better." Hey Marc? : He said to his black partner.
"Yeah, sure … she did not want to open her thighs." A real maiden. The cage is to prevent it from masturbating is that?
It always seems not to come back that my tail is caged. Mistress Caroline humiliates me even more, with a big smile.
-Yes, without the cage, this bitch band constantly and thinks only to touch. A real bitch who has a fire in her ass. Besides, you should show them my whore. Come on, caress, show them that you want to ass …. Excites our guests. You'll see, it's a real sow in heat!
In a second state, I obey Mistress Caroline, avoiding carefully to cross the glance of Ennia. Mistress Caroline is right. I'm a bitch who only thinks about ass. I slowly lift my latex skirt over my hips. The big black, the one called Marc, lets out a whistle …
-Wow, she's completely shaved … she's a real whore then!
Beginning of the BDSM game
I stroke the inside of my thighs, I open my ass with my hands and I introduce him to the guests, I play with the nipples on my nipples, which pulls me a little cry of pain, I give hip shots in the void. My cock makes me suffer terribly, tight to the maximum in my cage of chastity. Mistress Caroline gives the leash that holds Ennia to Chloe and gets up to join me. She unbuttoned my blouse and began to play with the clamps, harder than I did …
-The bitch is very sensitive to the nipples. His dressage is far from over. As we have agreed, gentlemen, you will help me to educate him. She has never sucked cock, and her ass of a bitch has never been fucked by a real cock of a male. It's yours. You can use it as you like. And make the good squeak this bitch, it excites us to death!
The big black took out his tail, more than imposing, and slowly jerked at me. He is the first to address me:
– Come here my bitch, you will show me what you can do with your mouth, come, suck your first cock. A beautiful black cock, you're lucky eh?
First blowjob with big black dick
I walk slowly, and kneel down. His big shiny glans revive me and fascinates me at the same time. Nobody speaks, as if the moment were solemn.
– Quickly, suck me dirty whore. I pull out my tongue and slowly approach her shaft. I give small shots all along, I gently lick his cock as he continues to masturbate. But he obviously does not want me to take my time. He puts his hand on my head and presses. His penis force my lips and just crashed at the bottom of my throat
– I said suck it whore !!! "
I have a squeeze and I spit out coughing …
-Love, go, again … suck me well!
I do my best, I suck, pushing it every time a little further. I remove it from my mouth to lick his penis. He seems to like …
-Lick me the balls too …. You saw how well they were full … good juice for you my bitch. We're going to make you a good bitch to blacks, I have a lot of guys who will love you.
I lick, sucks, saliva along her stem … Mistress Caroline and Mistress Chloe have come closer, they are watching me, close up. I feel even more humiliated, but it also gives me the will to do well. For my Mistresses to be proud of me.
-Hummm looks at Chloe as she likes it. I told you, she's a real bitch. We'll make a good sucker. Must be watched, she'll become addicted!
His Mistress
My Mistresses burst out laughing, and have a lot of fun during this BDSM game. My humiliation reaches its maximum. I weep for shame while sucking Marc's tail as it gets bigger. He imposes the rhythm with his hand, and I feel it accelerate. Then he enjoys grunting and I choke with his sperm, very abundant.
I spit out under the blow of the surprise, and immediately, Mistress Caroline brings me a slap masterful
-Sale whore, you do not know that you must swallow? !!! Look you fucked the floor, cleans immediately! Chloe, I think she needs the whip so that it fits her well into the skull. Must motivate her a little our sucker … go lick the good sperm, and then we clean the tail of his man, and we thank him!
Under the blows of whip that ping my ass, I lick Marc's cum, then I take it in mouth. He almost did not disband and he laughs mocking my poor qualities of sucking.
-You'll have to get better, you suck like a shit. We'll come back worrying, you can train, "he said, winking at his colleague. Come on, my boyfriend also wants to. And even if I am black, he has one bigger than me. And balls full, did not Luis?
Blowjob to second deliveryman
Luis, who has masturbated all the time of my fellatio, draws me to him and rolls me a shovel while triturating my nipples. He sticks his tongue in my mouth, and I can not help it. I think it disgusts me more than suck. I try to turn my head away. There's nothing more humiliating for me. But Luis does not hold the tongs, by the nipples. Faced with pain, I can only offer my mouth. He kisses me long and then lowers my head to his huge tail. I've never seen such an acorn. Its tail is thick, not too long but very broad. I have trouble taking it in the mouth. He forces me to suck, sink to the maximum by failing to make me vomit each time. That amuses him a lot.
Mother Caroline and Chloe go there for their comment.
"Have you ever seen such tails?" Asked Chloe. Me never. She's really super fat. Our little sow is going to burst the ass say so …
-You're right, she's gonna be good. Fuck she's giant her cock! T'aime ça huh the whore, big cock !!! You're really a lope to kiss !!!
I try to take a look at Ennia, but she looks down. And Luis orders me to look him in the eyes while he kisses my mouth. But he refrains from enjoying it.
-On all fours. Marc is going to prepare you ass so that I can break you. If I start, you'll explode.
The big black is out!
He grabs my nipples and pulls me to force me to stand up and kneel down on the central carpet. Marc got up too. Mistress Caroline throws me a bottle of lubricant and a hood.
-Well, the whore, you do not think anyone else will do it anyway? You put the hood on her and I advise you to spread your ass of gel, if you want it to do less harm. They will open you completely you'll love it!
I tremble by putting the condom on Marc's tail as best I can. She is bigger than the biggest gods with which Mistress Caroline has already worked. I'm freezing, copiously.
You should finger yourself, and put a max in the puck.
It was Ennia who spoke. I freeze and turn to her. Mistress Caroline is standing next to her. Tears rise to my eyes and I am his advice, without detaching my gaze from his. I am totally annihilated. Marc finds it too long and he comes behind me. His hand on my neck forces me to go on all fours. I feel his penis rubbing on my anus, and it starts to grow. I try to open myself, to relax. It forces and its penis opens and penetrates me. I scream in pain and he brings me a big slap on the buttocks.
– Hmmm I love making them scream the whores in your kind … Go ahead, scream if you want to. Fuck what it is narrow, it's too good !!!
Continuation of the rejoicings!
It makes a few back and forth and sink deep into one shot. I scream but Luis sticks his cock in his mouth, to stifle my cries. They rape me. The pain subsides a little but the pleasure is not there. Finally for me. Marc kisses me with great kicks, and he does not take long to enjoy a second time. He retires, leaving me gaping, and Luis comes to take his place.
-Hold on ! : Said Mark.
-Remet him frost, you'll see she is too good this bitch!
His penis is much bigger than that of black. It forces but without succeeding to return. Mistress Caroline then rummages in her bag and pulls out a jar of poppers.
-You're my bitch, breathes a big shot!
I obey, the heat immediately invades me, rises … and I scream again when Luis impales me. Mistress Caroline makes me sniff again and encourages Luis.
– Go ahead, now you can really smash it!
Submitted totally humiliated!
He does not deprive himself of it. I am nothing more than a continuous cry, that the string that Mistress Chloé has pressed into my mouth to gag me hard to attenuate. Luis grabbed my hips and he pounded me faster and faster. He enjoys quickly and retires. My anal rape is over, but not humiliation. Shot again by the tongs, I find myself still on my knees. Face devastated by pain, tears … Mistress Chloe pulls her thong from my mouth and Mistress Caroline speaks:
-You must be thirsty my little whore …. Look at the hot cum that you can taste … open your mouth and take out your tongue, go!
Then, joining the gesture to the word, it empties on my tongue the two condoms filled with the sperm of my rapists.
-Avale! Swallow everything ! You have to learn how to love this, it's not the last time you'll taste it, believe me !!
I'm on the verge of vomiting, but I obey, I swallow just as Mistress ordered me. During this BDSM game, I feel dehumanized. Shattered totally.
Departure of 2 deliverymen
Mistress Caroline takes leave of the two deliverymen, not without saying to them very soon. And they do not hesitate to tell their friends who are interested. Then she comes back to the living room and stops in front of me.
-My whore …. See what I can do with you. I can offer you to whomever I want, get you fucked by whoever I want. I did it and I do it again, often. You're mine. My object, my slave, I hope that now you are fully aware of it. You're my bitch. And if I want to prostitute you, I do. It's that simple. But enough for tonight, I think you got your account. And as you have excited us, you are entitled to a small reward.
I threw myself at her feet, kissed them, licked them with devotion … I wept, thanking her, saying that I am her bitch, her whore, her winner, that she can do with me all she wants, that I am her, she is my Goddess, my Divine Goddess. She pushed me away from her sole and ordered me to get up. Then she takes the key that hangs at the end of a chain, between her breasts, and frees me from my cage. I band immediately.
-Ennia, approach. Our little sow has earned a reward. So you have 3 minutes to make it enjoy. If you can not do it, so much the worse for him. He goes back to his cage and you, I punish you as rarely you have been. Nothing but the whip. You know how severe I can be, especially when I'm super excited like now. Go to work !
Related posts: